David & Joan Traitel Building Event Rental Information

Opened in 2017 and named in honor of lead donors David and Joan Traitel, the beautifully designed Traitel Building sits at the foot of Hoover Tower and opens the Hoover Institution to the larger Stanford University community. The building's first floor features several elegant, modern, and highly functional event spaces that we are pleased to share for events.
 
---
Available Spaces
 
everett and jane Hauck Auditorium

This light-filled venue features excellent acoustics, state-of-the-art A/V capabilities, and theater-style seating for 400 guests. The distinctive, scalloped ceiling and wood trim finishes throughout set the lecture hall apart from other convening spaces on campus. Generously sized yet intimate, Hauck Auditorium is a noteworthy addition to Stanford University.
Details
Seats 400
Comfortable, theater-style chairs with arm rest, leg room, floor-fed climate control, and lap pad (Wheelchair accessible and removable chairs also available).
Attached Green Room (see details in amenities section)
State-of-the-art A/V capabilities for presenting, recording, and live streaming

Full-coverage, built-in speaker system
4 cameras for recording (2 in back, 2 flanking stage)
HD projector
Theater-sized dropdown projection screen
6 handheld mics and 8 lapel mics
In-room AV control booth
Acoustic wood ceilings carry excellent sound throughout the room
Built-in hearing loop system provides an automatically boosted signal to guest with hearing aids
Overflow speakers in adjacent arcade
Stage with movable lectern, optional Stanford branding on back wall, and multiple light scenes
No food or drinks are allowed (water okay)
 
---
william Blount Hall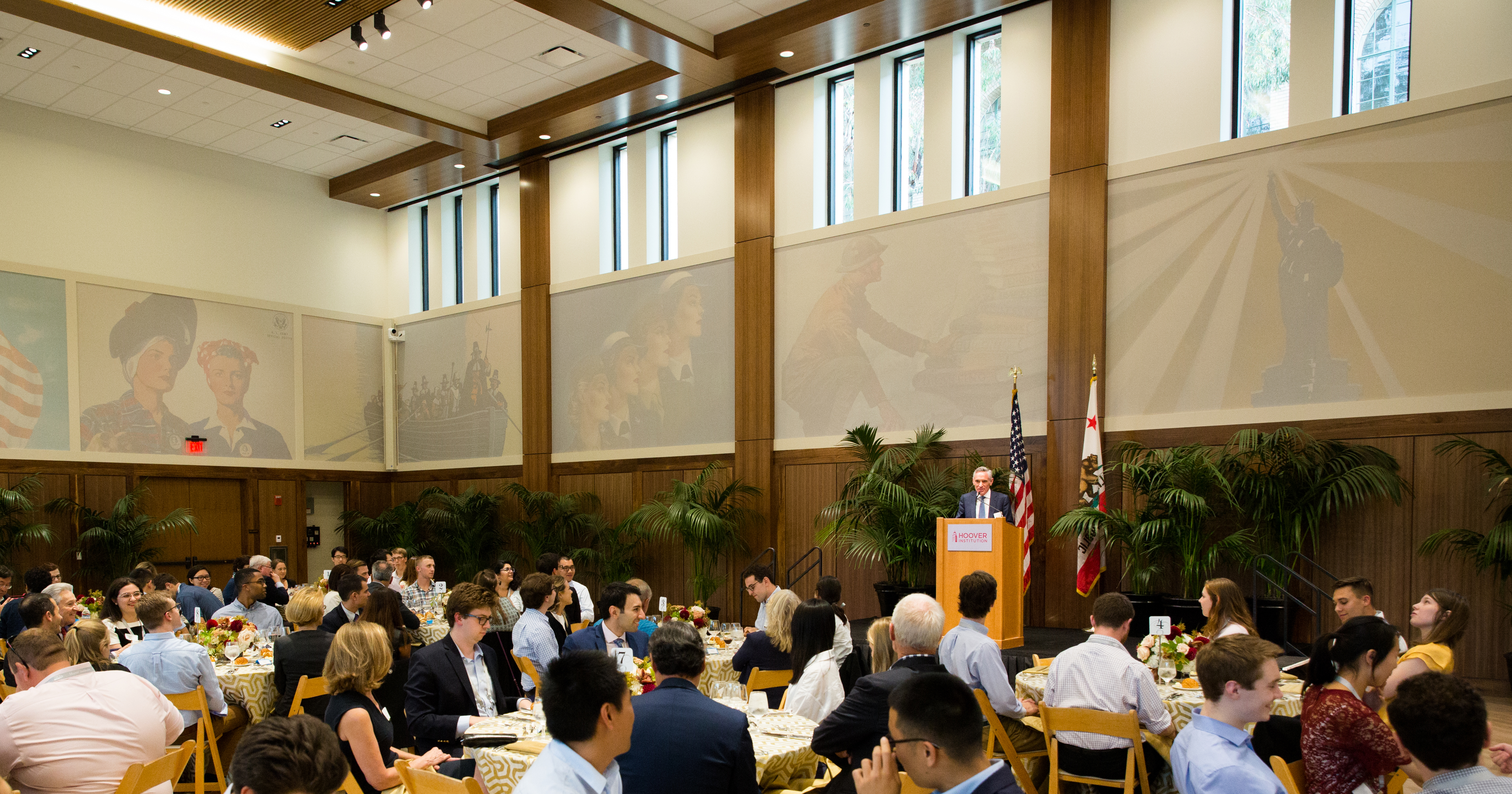 Decorated with posters from Hoover's world-renowned archival collection, Blount Hall is a spacious dining and multipurpose room that seats 440 guests. The room opens to the building's outdoor courtyard and Welcoming Pavilion/reception area, offering plenty of natural light and easy access to other spaces. Rental includes use of designer dining chairs and 66-inch round tables.
Details
Seats 440 in rounds
Adjacent plating area and full catering kitchen (see amenities section below for more details)
Conveniently located event office
A/V system

2 built-in line array speakers, expansion capability for subwoofer and fill speakers
4 HD cameras
2 recessed ceiling projectors
2 drop-down projector screens
6 handheld and 8 lapel mics
Separate A/V control room

Optional modular stage
44 round tables and 440 chairs included in rental
Glass folding doors open to courtyard via East Arcade
West doors open to Pavilion/reception area
 
---
Welcoming Pavilion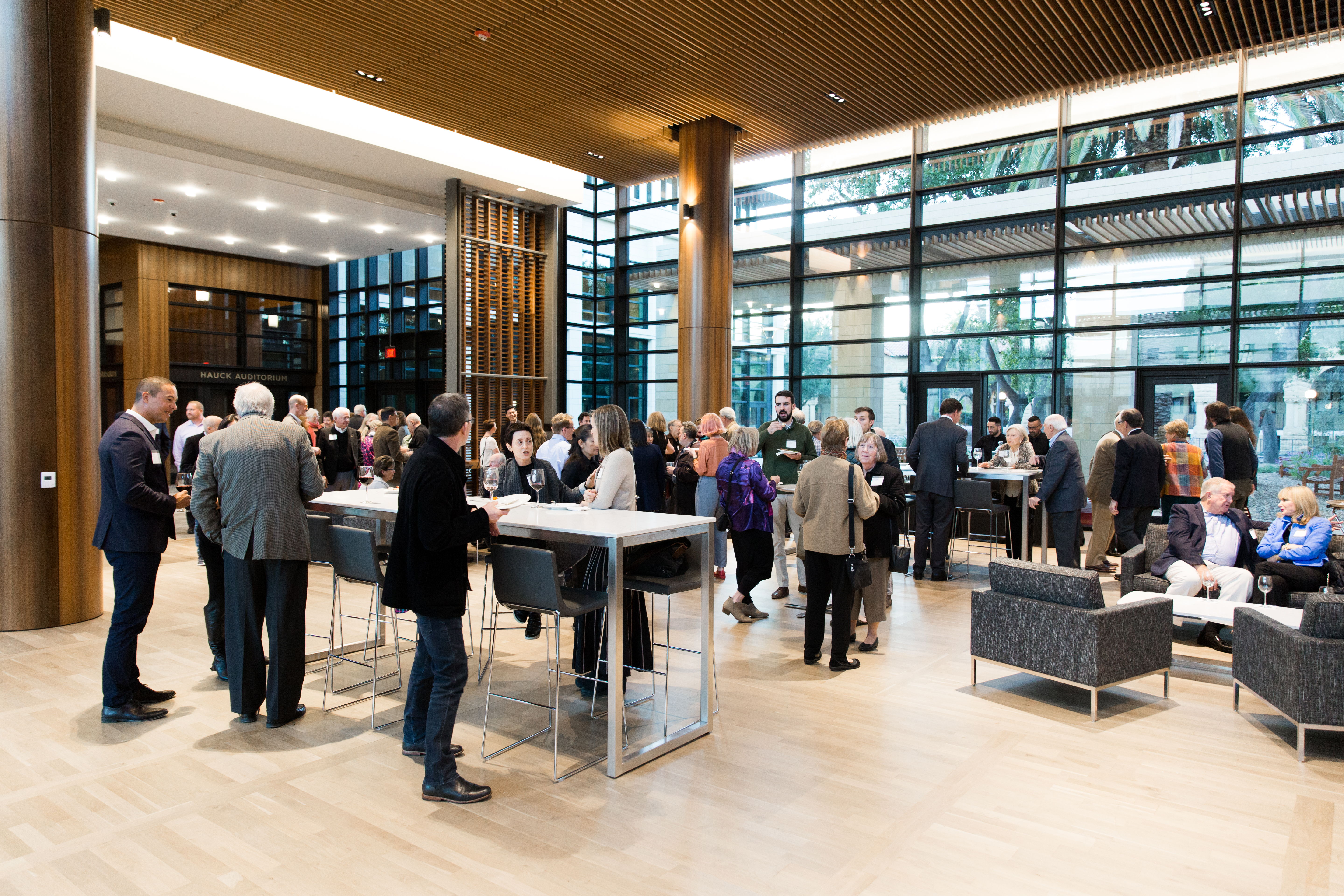 This glass-walled room is adjacent to the building's main Lasuen Mall entrance and lobby area. The pavilion opens up to the building's semi-private courtyard and serves as pre-function space for the building's dining/multipurpose room and auditorium.
Details
A/V system

2 built-in speakers
Music playback capability
Multimedia screen can stream audio/video as overflow monitor or be preloaded with content
3 handheld and 2 lapel mics
iPad control system

East doors hold-open to allow indoor/outdoor access for events
Adjacent reception desk
Lounge style seating included by default (can be altered only with prior approval)
 
---
Fairweather Courtyard

This beautiful outdoor space, sponsored by Hoover supporters Joanne and Arthur Hall, sits at the foot of Hoover Tower and looks out to Serra Mall and Tanner Fountain. It features comfortable patio-style seating, café tables and chairs, and easy access to the building's indoor event areas.
Details
Capacity for 500 guests
Included patio seating (can be altered only with advanced notice)
Additional seating available on surrounding seat walls. 
---
Building/ Rental Details
Rates and Inquiries
Rate sheet for Stanford University departments and schools 

Amenities
AV system can be synced across all three interior event spaces
Green room with comfortable seating, LCD monitor, mini-fridge and private bathroom connected to both Hauck Auditorium and Blount Hall
Catering kitchen and plating area
Loading dock adjacent to kitchen spaces and accessible via Crothers Way
Coat room
Event office
Reception desk
Locking doors can be programmed to remain unlocked for after-hours events
Preferred Vendors
Other Resources
Diagrams for Hauck Auditorium, Blount Hall, The Pavilion, Fairweather Courtyard (coming soon) 
Valet - Soirée Valet
Fine Print
Events can take place any time between 8:00 a.m. and 10:00 p.m.
Hoover does not provide an event manager for outside events.
For Traitel Building events booked more than 90 days in advance, Hoover can only offer a soft hold on dates/spaces. Full confirmation of dates/spaces becomes available once the event is 90 days away.
Contact Information:
To inquire about renting space at Traitel, please click here. 
For additional information or other questions contact traitelevents [at] stanford.edu (subject: Traitel%20Events%20Inquiry) or call 650-721-7869.