Cardinal Conversations: Reid Hoffman And Peter Thiel On "Technology And Politics" Moderated By Niall Ferguson

The Hoover Institution hosted "Cardinal Conversations: Reid Hoffman and Peter Thiel on 'Technology and Politics' moderated by Niall Ferguson" on Wednesday, January 31, 2018 from 7:00pm - 8:30pm PST.
In 2018 Stanford University launched a new series of conversations on burning issues of our time, featuring some of today's leading thinkers. The series is jointly hosted by the Hoover Institution, Stanford University and the Freeman Spogli Institute.
Click here for more information.
To find out more about Cardinal Conversations, click here.
Watch the Livestream
---
About the Speakers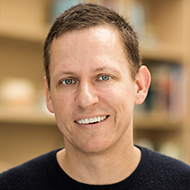 Peter Thiel is an entrepreneur and investor. He started PayPal in 1998, led it as CEO, and took it public in 2002, defining a new era of fast and secure online commerce. In 2004 he made the first outside investment in Facebook, where he serves as a director. The same year he launched Palantir Technologies, a software company that harnesses computers to empower human analysts in fields like national security and global finance. He has provided early funding for LinkedIn, Yelp, and dozens of successful technology startups, many run by former colleagues who have been dubbed the "PayPal Mafia." He is a partner at Founders Fund, a Silicon Valley venture capital firm that has funded companies like SpaceX and Airbnb. He started the Thiel Fellowship, which ignited a national debate by encouraging young people to put learning before schooling, and he leads the Thiel Foundation, which works to advance technological progress and long-term thinking about the future. Peter is also the #1 New York Times bestselling author of Zero to One: Notes on Startups, or How to Build the Future.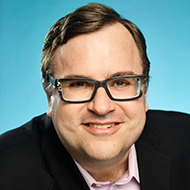 Reid Hoffman is the Co-Founder of LinkedIn and partner at Greylock Partners. An accomplished entrepreneur, executive, and investor, Reid Hoffman has played an integral role in building many of today's leading consumer technology businesses. In 2003 Hoffman co-founded LinkedIn, the world's largest professional networking service. LinkedIn is thriving with more than 500 million members around the world. In 2009 Hoffman joined Greylock Partners. He focuses on building products that can reach hundreds of millions of participants and businesses that have network effects. He currently serves on the boards of Airbnb, Edmodo, Convoy, Blockstream and a few early stage companies still in stealth. In addition, he serves on a number of not-for-profit boards, including Kiva, Mozilla Corporation, Endeavor, and CZI Biohub. Prior to joining Greylock, he angel invested in many influential internet companies, including Facebook, Flickr, Last.fm, and Zynga. Hoffman is the host of Masters of Scale, an original podcast series and the first American media program to commit to a 50-50 gender balance for featured guests. He is also the co-author of two New York Times best-selling books: The Start-Up of You and The Alliance. His next book is focused on "blitzscaling", based on his Stanford course of the same name. Hoffman earned a master's degree in philosophy from Oxford University, where he was a Marshall Scholar, and a bachelor's degree with distinction in symbolic systems from Stanford University.