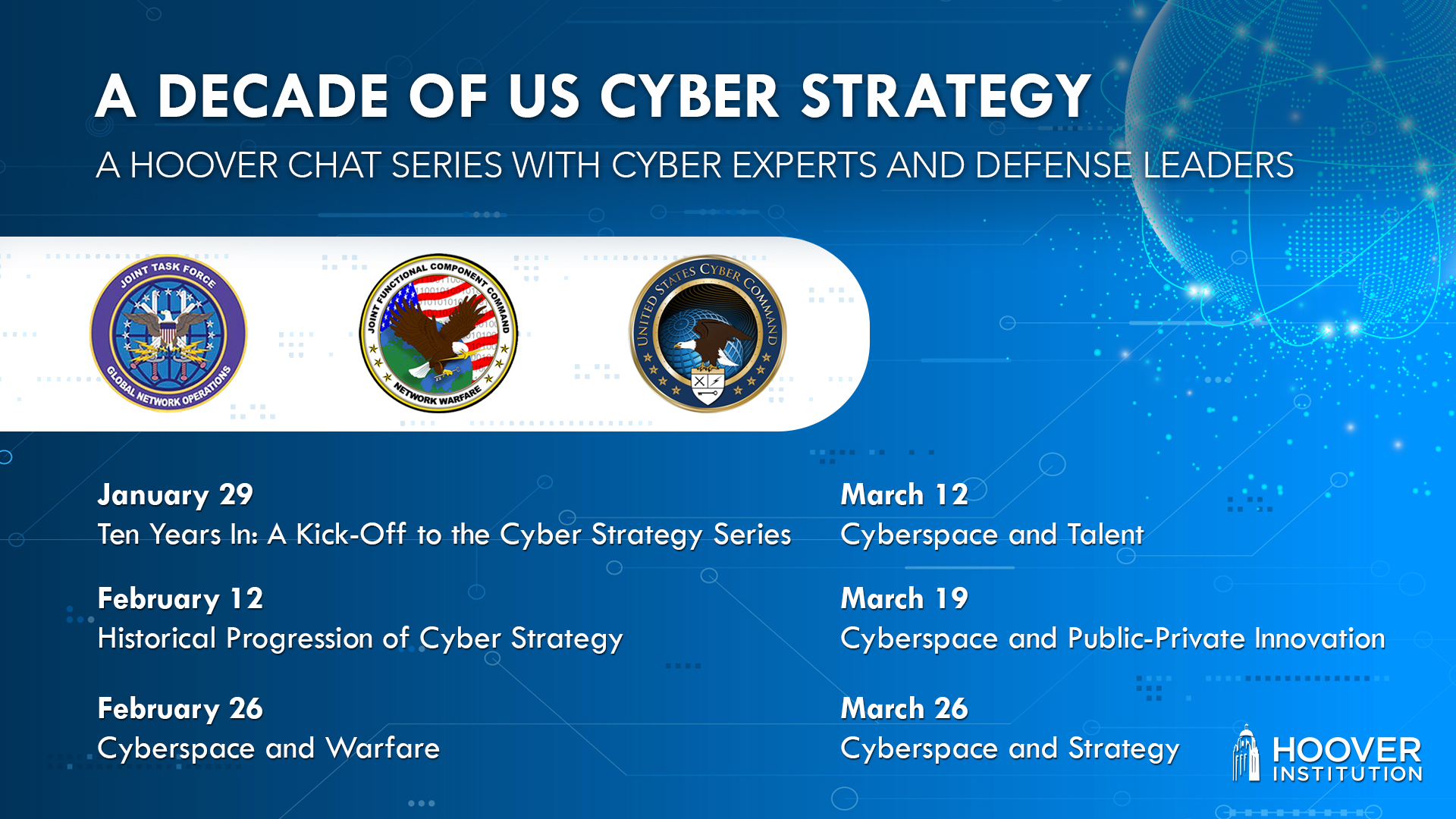 The Hoover Institution hosts A Decade of US Cyber Strategy: a Hoover Chat Series with Cyber Experts and Defense Leaders, on January 29, February 12, February 26, and March 19, 2021.
This series of discussions will look at the evolution of US cyber strategy over the last decade. Join scholars and defense cyber leaders as they discuss chapters from the recently published book, Ten Years In: Implementing Strategic Approaches to Cyberspace, all with an eye towards the future of US cyber strategy.
The series features authors from the volume, including both academics and Department of Defense cyber leaders, as well as Hoover experts that discuss the history of cyber strategy, cyber warfare, cyberspace talent, and public-private innovation in cyberspace and will be moderated by Dr. Jackie Schneider, Hoover Fellow, Hoover Institution.
Day
Content
panelists

JANUARY 29
9:30-10:30AM PT

Ten Years In: A Kick-Off to the Cyber Strategy Series:
A discussion on the importance of US cyber strategy, how strategy is implemented, and how we will know whether it is successful.

Andrew Grotto | William J. Perry International Security Fellow, Cyber Policy Center; Research Fellow, Hoover Institution

Jay Healey | Senior Research Scholar at the School for International and Public Affairs, Columbia University

FEBRUARY 12
10:00-11:00 AM PT

Historical Progression of Cyber Strategy:
A look at how US defense cyber strategy has evolved over the last ten years and what paradigms might guide future strategy.

Admiral James O. Ellis Jr. | Annenberg Distinguished Visiting Fellow, Hoover Institution

Dr. Michael Warner | Command Historian, United States Cyber Command

Dr. Emily Goldman | Strategist, United States Cyber Command

FEBRUARY 26
9:30-10:30AM PT

Cyberspace and Warfare:
A discussion on how cyber operations affect warfare and how cyber strategy helps (or hurts) the integration of cyber operations in warfighting campaigns, leads to new tactics or operations, and ultimately impacts military effectiveness.

Dr. Josh Rovner | Associate Professor, School of International Service, American University

VADM (ret.) T. J. White | Former Commander of US Fleet Cyber Command/ US 10th Fleet

Aaron Hughes | Former DASD

Lt Gen Timothy Haugh | Commander, Sixteenth Air Force, Commander, Air Forces Cyber, and Commander, Joint Force Headquarters-Cyber, Joint Base San Antonio-Lackland, Texas

MARCH 12
9:30-10:30AM PT

Cyberspace and Talent:
A discussion on how cyber strategy can be used to recruit, retain, and best employ cybersecurity talent for the Department of Defense.

Dr. Jacquelyn Schneider | Hoover Fellow, Hoover Institution, Stanford University

Raj Shah | Shield Capital; Visiting Fellow, Hoover Institution, Stanford University

Dr. Chaitra Hardison | RAND Behavioral Scientist

Tim Booher | HSBC Bank's Global Chief Technology Officer for Cybersecurity.

MARCH 19
9:30-10:30AM PT

Cyberspace and Public-Private Innovation: 
A discussion of the role of public-private partnerships and innovation in defense cyber strategy.

Dr. Amy Zegart | Morris Arnold and Nona Jean Cox Senior Fellow, Hoover Institution

Dr. Joseph Felter | Research Fellow, Hoover Institution, Stanford University

Dr. Erica Borghard | Senior Fellow, Atlantic Council

Dr. Peter Dombrowski | William B. Ruger National Security Economics Chair, Naval War College

MARCH 26
11:00AM-12:00PM PT

Cyberspace and Strategy: Deterrence, Escalation, and the New Administration
A discussion about how deterrence and escalation factor into US cyber strategy and have shaped the evolution of US cyber strategy with a concluding look to the future and cyber strategy under the Biden Administration.

David Sanger | New York Times

Dmitri  Alperovitch | Co-Founder and Chairman, Silverado Policy Accelerator