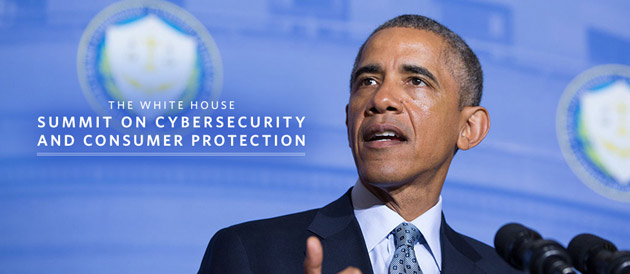 On Friday, February 13, the White House will host a daylong summit on cybersecurity and consumer protection.  The summit,  part of the larger Stanford Cyber Initiative launched in November 2014, will bring together  leaders from the federal government, business sector, law enforcement, and consumer advocates, as well as Stanford faculty and students currently researching cybersecurity issues. According to the White House announcement, topics at the summit will cover "increasing public-private partnerships and cyber security information sharing, creating and promoting improved cybersecurity practices and technologies, and improving adoption and use of more secure payment technologies."
"We are honored to host this White House summit at Stanford University and are excited to play a pivotal role in convening experts from government, industry, and academia," said Amy Zegart, a senior fellow at the Hoover Institution and codirector of the Center for International Security and Cooperation (CISAC). "Stanford is very engaged in studying cyber-related issues, and we look forward to enhancing this work by sharing our expertise on the cybersecurity issues that are so critical for the United States, its consumers, and its businesses."
Although the details of the summit are still being finalized, widespread campus participation is expected across many different disciplines and organizations, including the Hoover Institution.
WATCH THE LIVESTREAM HERE:
For more information, see the announcements from Stanford News and the CISAC website.
Agenda for the Summit
Memorial Auditorium
8:45 a.m.: Welcome Remarks, Stanford President John Hennessy
8:55 a.m.: Introductory Remarks, Lisa Monaco, National Security Council
9:05 a.m.: Introductory Remarks, Jeff Zients, National Economic Council
9:15 a.m.:
Plenary Panel: Public-Private Collaboration on Cybersecurity
Over the past year, there has been a surge in cybersecurity incidents against high profile consumer retail, banking, healthcare, and utility companies. Combined with persistent and growing cyber threats against government entities, we must continue expanding and enhancing public-private cooperation to further safeguard consumers and to better protect our economic and national security. This panel will draw on the experiences of corporate leaders to explore how CEOs, their boards, and their executive teams work with the government to improve cybersecurity across the financial ecosystem.
Moderator: Secretary Jeh Johnson, U.S. Department of Homeland Security
Panelists:
Kenneth Chenault, Chairman and CEO, American Express
Anthony Earley, Jr., Chairman and CEO, Pacific Gas & Electric
Mark McLaughlin, President and CEO, Palo Alto Networks
Bernard Tyson, Chairman and CEO, Kaiser Permanente
 Elizabeth Sherwood-Randall, Deputy Secretary, U.S. Department of Energy
10:00 a.m.:
Plenary Panel: Improving Cybersecurity Practices at Consumer Oriented
Businesses and Organizations
Cybersecurity incidents have evolved rapidly from theoretical threats or nuisances to events that can threaten the financial security of companies and the public, jeopardize brand value and ongoing operations, and undermine consumer confidence. This panel will explore what CEOs and their boards are doing to move cybersecurity concerns from the IT back-office, ensuring that this critical strategic issue is part of corporate planning, communications, governance, and operations for consumer-oriented business across all sectors of our economy.
Moderator: Secretary Penny Pritzker, US Depart of Commerce
Panelists:
Ajay Banga, President and CEO, Mastercard
Peter Hancock, President and CEO, AIG
Renee James, President, Intel
Brian Moynihan, Chairman and CEO, Bank of America
Nuala O'Connor, President and CEO, Center for Democracy & Technology
10:45 a.m.: Break
11:00 a.m.: Remarks, Tim Cook, CEO, Apple
11:10 a.m.: Keynote Introduction, Stanford President John Hennessy
11:15 a.m. - 11:45 a.m.: Presidential Address
Afternoon Sessions Resume at CEMEX
1:30 p.m.: Introduction, George Triantis, Chair, Stanford Cybersecurity Initiative
Steering Committee
1:35 p.m.: Remarks, Administrator Maria Contreras-Sweet, U.S. Small Business
Administration
1:45 p.m.:
Informal Discussion: Cyber Security as a Business Differentiator
As cyber threats have grown, some start-ups have begun building strong security features into their products and services – using these innovations to distinguish themselves from competitors. This informal discussion among CEOs of successful start-ups that have used this strategy will detail how they pushed boundaries to improve security for both their companies and their customers, and explore how other innovative security-minded companies can follow their lead.
Discussants:
John Holdren, Director, White House Office of Science and Technology Policy
Patricia Falcone, White House Office of Science and Technology Policy
Aaron Levie, CEO and Co-Founder, Box
Michelle Zatlyn, Co-Founder, CloudFlare
2:15 p.m.:
Plenary Panel: Promoting More Secure Payment Technologies
Today, internet-enabled social and mobile devices, and a pervasive IT infrastructure, provide consumers ever easier ways to participate in the global economy. But to maintain the growth of commerce and consumer convenience, and ensure that innovation remains a driving force across our economy, it is essential that electronic payments, financial settlements, and the IT systems and data that support this financial activity, are reliable, trusted, and secure. This panel will explore opportunities for innovation in this area, with a focus on next-generation payment technologies.
Moderator: Deputy Secretary Sarah Bloom Raskin, U.S. Department of Treasury
Panelists:
Richard Davis, Chairman and CEO, US Bank
Mike George, CEO and President, QVC
Alexander Gourlay, President, Walgreens
Charles Scharf, CEO, Visa
Dan Schulman, President and CEO, PayPal
3:00 p.m.: Remarks, John Mitchell, Professor of Computer Science and Vice
Provost for Online Learning, Stanford University
3:05 p.m.: Plenary ends. Move to break-out sessions.
3:15 p.m.: Break-Out Sessions
1) Cybersecurity Information Sharing
The government and the private sector must work together to protect against today's fast moving and far reaching cyber threats. Panelists will discuss how new models to help share more information on threats and cybersecurity analysis – including regional and threat-based partnerships – can help better secure our networks. They will also discuss challenges to and opportunities for expanded information sharing, and how we can share cyber threat information without compromising our commitment to privacy and civil liberties.
Moderator: Michael Daniel, National Security Council
Panelists:
Michael Brown, CEO, Symantec
Jon Ikard, CEO, First Bank
Jennifer Granick, Stanford University, Director Civil Liberties
Matt Olsen, Former Director, National Counterterrorism Center
Alejandro Mayorkas, Deputy Secretary, U.S. Department of Homeland
Security
2) International Law Enforcement Cooperation
To respond to today's increasingly transnational cyber threats, law enforcement must work quickly and effectively with partners in other countries, with multinational organizations, and with private sector allies around the world. Countries have had great successes in recent years built on bringing together diverse teams of responders, but we also face significant challenges. Panelists will discuss how best to enhance multinational law enforcement cooperation, and how we can more effectively leverage increased international collaboration when responding to cyber threats.
Moderator: Assistant Attorney General Leslie Caldwell
Panelists:
Joseph Demarest, Federal Bureau of Investigation
Ed Lowery, U.S. Secret Service
Kevin Mandia, Former CEO, Mandiant; Senior VP and COO, FireEye
Jamie Saunders, Director National Cyber Crime Unit, United Kingdom National Crime Agency
Bilal Sen, United Nations Office of Drug and Crime
3) Improving Authentication: Moving Beyond the Password
Passwords continue to underpin much of our cybersecurity framework, but research has shown that two out of three breaches exploit weak or stolen passwords. President Obama's National Strategy for Trusted Identities in Cyberspace began a process to address this concern and help both the private and public sectors move beyond passwords. Panelists will discuss the progress made, opportunities and initiatives to deploy new methods of authentication, the benefits we can expect from new security methodologies, and the steps still needed to move our systems – and consumers – beyond passwords.
Moderator: Undersecretary Willie May, NIST
Panelists:
Lorrie Faith Cranor, Professor, Carnegie Mellon University and Advisory Board Member, Electronic Frontier Foundation
Stina Ehrensvard, CEO and Founder, Yubikey
Blake Hall, CEO, ID.me
Mark Kelsey, CEO, LexisNexis
4) Chief Security Officers' Perspectives: New Ideas on Technical Security
Cybersecurity is constantly evolving. Techniques that were state of the art four years ago are already outdated today. To keep up, network defenders must be constantly innovating. No one knows this better than the cybersecurity strategists at some of our nation's leading technology firms, who must defend against new threats before anyone else. This panel will explore the perspectives of these front-line network defenders, discussing lessons learned, techniques they have developed based on their experiences, and what they see for the future.
Moderator: Amy Zegart, Professor, Stanford University
Panelists:
Scott Charney, Corporate VP Trustworthy Computing, Microsoft
Eric Grosse, VP for Security Engineering, Google
Melodie Hildebrandt, Global head of cyber security, Palantir
Alex Stamos, Chief Information Security Officer, Yahoo
Joe Sullivan, Chief Information Security Officer, Facebook
4:00 p.m.: Adjourn