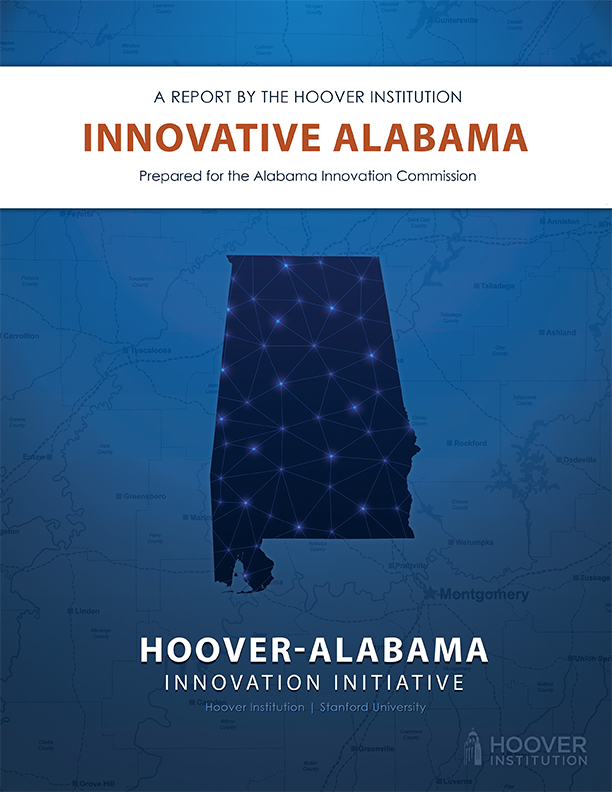 Hoover Institution (Stanford, CA) – The Hoover Institution has submitted a report to the Alabama Innovation Commission (AIC), providing recommendations on how the state can become a national leader in fostering scientific and technological innovation.
In summer 2020, Alabama Gov. Kay Ivey convened the AIC, of which Hoover Institution director Condoleezza Rice is on the Advisory Council, with the goal of diversifying and growing the state's economy. To this end, the AIC forged a partnership with a team of Hoover scholars, co-led by senior fellows Stephen Haber and Joshua Rauh, to conduct data-driven research and assess Alabama's existing infrastructure, in particular how its educational, legal, financial, governance and physical aspects can be revamped to create a favorable entrepreneurial environment.
In addition to Haber and Rauh, the report includes contributions from other members of the Hoover fellowship, including Alexander Galetovic, Eric Hanushek, Margaret (Macke) Raymond and Jonathan Rodden.
"Policies that spur economic growth are not the sole domain of the federal government," Rice said. "The Hoover-Alabama initiative has demonstrated that efforts to advance meaningful policy change and inspire innovation can occur at the state and local levels, where governments are closer to the people and can better help them achieve prosperity."
"I appreciate the Hoover Institution's work in putting together this report for the Alabama Innovation Commission (AIC), and I look forward to hearing from the AIC on how we as a state can take meaningful steps forward to be a leader in innovation," said Alabama Governor Kay Ivey. "I am a firm believer in the potential of this state, and I am confident when we work collaboratively across state and local government and industry, we can create an environment where our people can be successful and Alabama can thrive now and in the future."
Haber explained that the concept of innovation can be concisely defined as the ability to see a demand curve for a product that does not yet exist or an improved version of a product that already exists.
"Making that a reality requires not just a vision, but also the ability to combine the talents of engineers, inventors, lawyers, finance professionals and people with expertise in marketing and product design into a team that yields more than the sum of its parts," said Haber.
Haber noted the goal of this report is not to recommend that the government should choose certain industries that it believes will succeed in bringing about innovation, but instead create or build upon the necessary infrastructure that will attract firms and highly skilled workers. The report addresses the rule of law, the tax system and regulatory environment, the K-12 education system, outdoor recreational opportunities and access to broadband internet.
"Firms and workers will then determine which industries emerge – and they will do it much more efficiently than government ever will," Haber said.
"The work of the Alabama Innovation Commission is vital to our state's continuing growth in a rapidly-evolving economic environment. I welcome the Hoover Institution's report and thank Dr. Rice and the Institute for their important contributions to those efforts," said Bill Poole, Alabama director of finance and chair of the AIC. "The Hoover Institution's report coupled with the final report of the Alabama Innovation Commission will provide guidance as we work together in Alabama to set priorities for our state's innovation future."
In support of the publication of this report, Joshua Rauh launched a policy lab with student researchers from Stanford's Graduate School of Business and the Stanford Law School. Within teams in the policy lab, Stanford MBA students worked with undergraduates from Tuskegee University, Auburn University, Alabama A&M University and the University of Alabama at Birmingham to explore obstacles and solutions to expanding innovation in the state.
"The rigorous work of our students in the policy lab was integral to obtaining data and conducting analysis necessary to make sound recommendations to the Alabama Innovation Commission," said Rauh. "These students also have gained invaluable experience that will empower them to become the state's next generation of policy leaders, entrepreneurs and innovators."
"The release of this report is the result of hard work, time and effort from a number of highly-qualified individuals in an effort to support the Alabama Innovation Commission's mission to chart a strong path forward for the state of Alabama," said Senator Greg Reed, vice chair of the AIC. The leadership from all involved at the Hoover Institution in producing this report has been greatly appreciated and is an important step in how our state can reach its full potential."
The Hoover Institution's report to the AIC covers the following subjects:
Chapter 1: The Role of Alabama Universities in Fostering Innovation and Growth
By Joshua Rauh, Natalie Millar and Gregory Kearney
Chapter 2: If You Build it, They Will Come: High-Skill Workers and Alabama's Outdoor Recreation Infrastructure
By Alexander Galetovic, Stephen Haber, Jordan Horrillo and Isabel Lopez
Chapter 3: Supporting Advanced Manufacturing in Alabama
By Jonathan Rodden
Chapter 4: Tax Policy, Subsidies and Innovative Business Investment in Alabama: Past and Prospect
Joshua Rauh and Gregory Kearney
Chapter 5: Establishing the Foundation for Economic Growth: The Alabama Education Laboratory
By Eric Hanushek
Chapter 6: Alabama Broadband for Education
Sofoklis Goulas, Chunping Han and Margaret (Macke) Raymond
Click here to read the entire report.
For coverage opportunities, contact Jeffrey Marschner, 202-760-3187, jmarsch@stanford.edu.