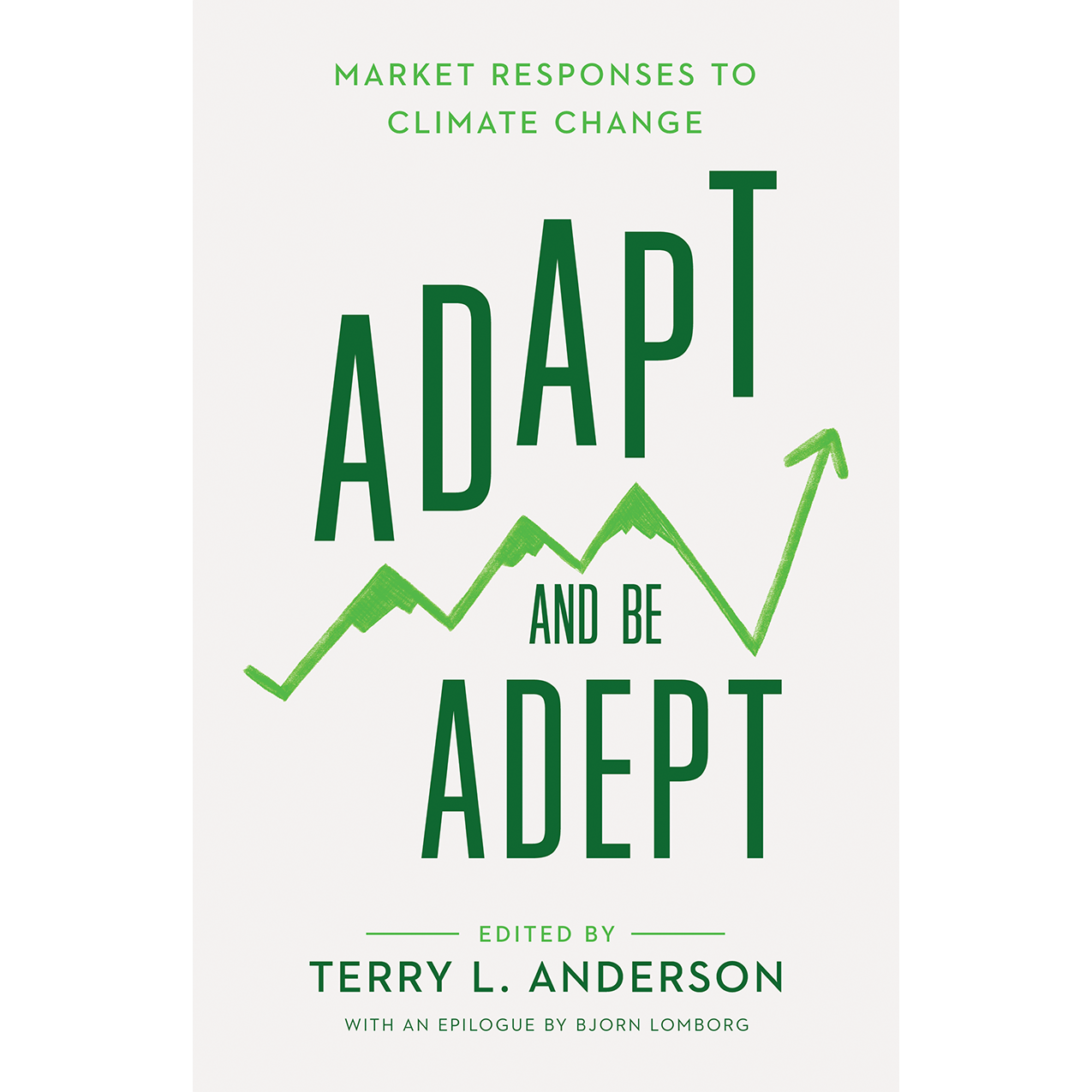 Hoover Institution (Stanford, CA) – The Hoover Institution has published Adapt and Be Adept, a volume of seven essays that explore different ways market forces can help governments and populations adapt to the environmental and economic effects of climate change.
Organized and edited by John and Jean DeNault Senior Fellow Terry L. Anderson, the volume features the work of nine policy analysts, who argue that market forces are just as important as government regulation in shaping climate policy—and should be at the heart of America's response in helping societies adapt to climate change, while reducing the global carbon footprint.
In his introduction, Anderson writes that most current climate policies such as the Paris Agreement require hard-to-enforce collective action and focus on reducing or mitigating greenhouse gases rather than adapting to their negative effects.
The authors tackle a range of issues: the hidden costs of renewable energy sources, the political obstacles surrounding climate change policy, insurance and financial instruments for pricing risk of exposure to the effects of climate change, and more. Reliance on emerging renewable energies and a carbon tax are not enough to prevent the effects of global warming, they argue.
"I always like to say, 'Wealthier is healthier,'" Anderson explains. "This is true both for individuals and the environment.  As the nation has become wealthier, we have demanded a cleaner environment. For example, in that process, we now drive much more fuel-efficient cars. Ultimately, the marketplace provides the kinds of incentives that will get people to adapt to climate change if government steps out of the way."
The following are contributing scholars and their respective essay topics: Mark P. Mills explains why hydrocarbons will maintain a large share of the global energy supply; Kenneth W. Costello examines the political realities of climate policy; Timothy Fitzgerald considers how "rent seeking" is evolving as escalating demands for climate change have expanded into the scope of trade policy; E. Barrett Ristroph discusses the importance of adaptation for Alaska Natives who are already facing the impacts of global warming, such as melting sea ice, land erosion, permafrost thaws, and wildlife habitat changes; Gregory Characklis, Benjamin T. Foster, and Matthew Kahn explore how information on the costs of climate risk can be improved to help incentivize adaption; Ronald Bailey makes a timely case about how regulations prevent insurance markets from generating information about wildfire risk that would lead to more realistic pricing and induce people to adapt; and Bjorn Lomborg writes that adaptive actions in the economy can deliver cheaper and better solutions than government-imposed climate control policies.
Adapt and Be Adept is available in hardcover and e-book formats. Click here to purchase.
About the Editor
Terry L. Anderson is the John and Jean De Nault Senior Fellow at the Hoover Institution, Stanford University, and professor emeritus at Montana State University. He is the coauthor of Free Market Environmentalism.
Contributors: Ronald Bailey, Gregory W. Characklis, Kenneth W. Costello, Timothy Fitzgerald, Benjamin T. Foster, Matthew E. Kahn, Bjorn Lomborg, Mark P. Mills, and E. Barrett Ristroph.
Advance Praise for Adapt and Be Adept
"In the flood of books and articles about what people should do, or how guilty people should feel, about global warming, this book stands out: it is all about what people will do as climate change, or even the threat of climate change, alters the incentives, challenges, and opportunities that people face. It is thus far more realistic, honest, and helpful than much of the discussion about climate change policy."
—Matt Ridley, author of How Innovation Works and The Rational Optimist
"With headlines of gloom and doom, it's no surprise that a large portion of the developed world population sees climate change as an imminent and existential threat to humanity. This book provides the missing, grounded hope, based upon our species' remarkable ability to adapt and flourish, driven in part by market forces, pricing, and reallocating risk. We do this every day, continually adjusting to supply and demand, risk and reward, in our normal behaviors, so why is it so novel to contemplate climate change with the same lens? This book tells us how we can adapt, are adapting, and will continue to adapt to the effects of climate change."
—Lance Gilliland, managing director, Tudor Pickering, Holt & Co.
"You don't have to agree with Anderson et al.'s faith in the markets—and I often don't—to know this book is important. Whatever we do politically, the planet will keep on warming and the money will keep on moving to higher ground, and these are the two inescapable truths of humankind's next centuries on Earth. Anyone who cares about the future should pay attention."
—McKenzie Funk, author of Windfall and writer for Harper's, National Geographic, and Rolling Stone
"Adapt and Be Adept brings solid economic thinking to the challenge of harnessing market forces in the service of adaptation to a changing and variable climate, a topic too long neglected by policy makers."
—G. Tracy Mehan III, executive director for government affairs, American Water Works Association, and former assistant administrator for water, US Environmental Protection Agency
For coverage opportunities, contact Jeffrey Marschner, 202-760-3187, jmarsch@stanford.edu.