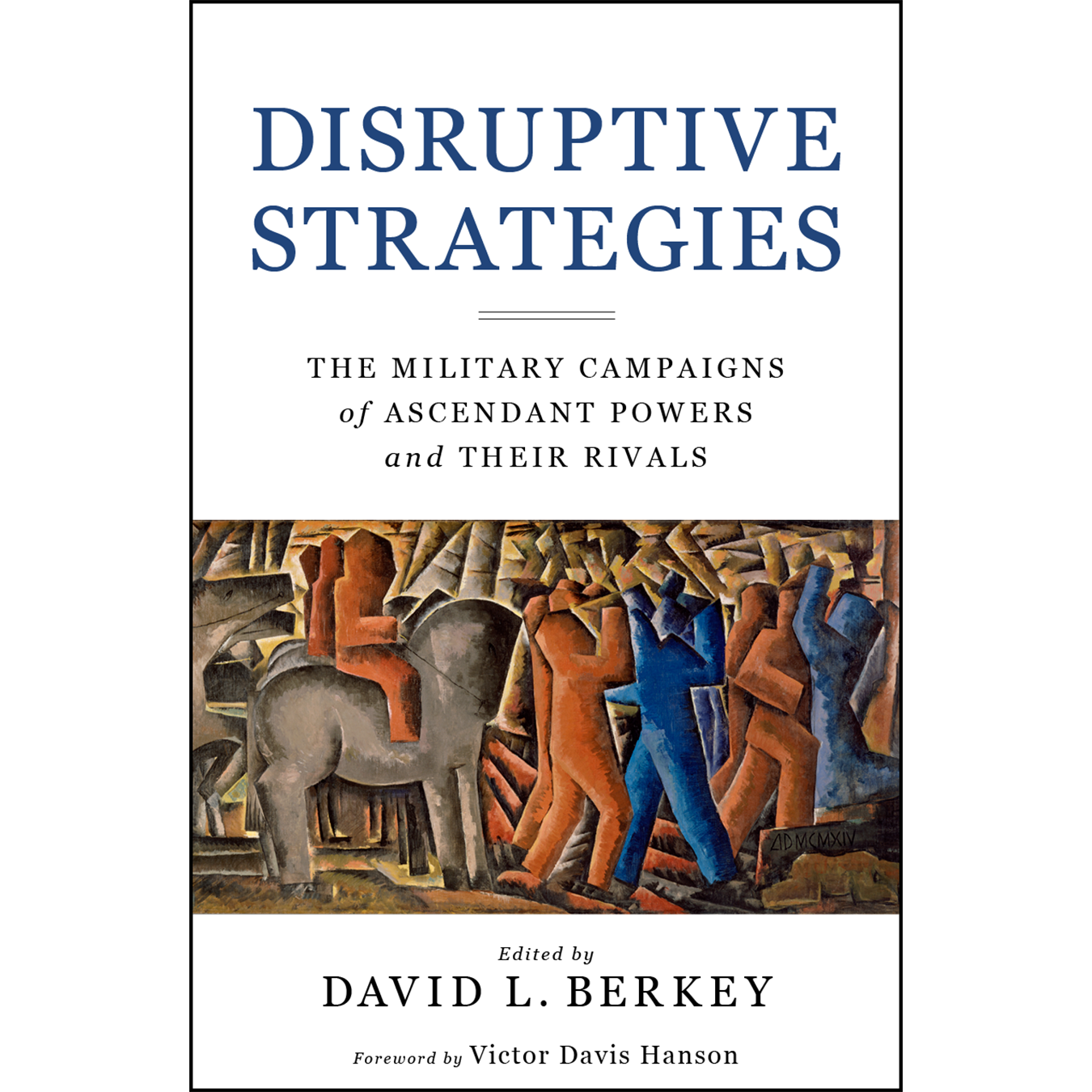 Hoover Institution (Stanford, CA) – The Hoover Institution has published Disruptive Strategies: The Military Campaigns of Ascendant Powers and Their Rivals, edited by Research Fellow David Berkey.
The volume of essays, written by renowned historians from the Hoover Institution and leading universities, examines the implications for warfare when a rising power, such as modern China, disrupts the predominance of a hegemon, like the United States. These essays offer historical case studies from ancient times to the modern era, involving states that were engaged in similar types of competition. The book concludes with a future hypothetical scenario in which a small skirmish between the United States and China escalates into a major conflict.
"To address this mission, and specifically in light of the challenge that China poses to American interests, I assembled the present group of distinguished scholars to identify and discuss campaigns from two different angles: one, in which hegemonic states confronted rising powers seeking to topple them, or two, conversely, in which rising powers contested the leadership of a dominant state," writes Berkey in the introduction.
Disruptive Strategies is the first in a series of books produced by the Hoover Institution's Working Group on the Role of Military History in Contemporary Conflict, chaired by Martin and Illie Anderson Senior Fellow Victor Davis Hanson. The working group, which also produces Strategika, Hoover's online journal of military history, aims to inform readers about how past military operations can inform contemporary public policy decisions.
"The contributors to this volume, whose essays were presented for publication in advance of the [COVID-19] epidemic, remind us that none of the current global players, both ascending and waning powers, are engaged in a novel contest," writes Hanson in the foreword. "They compete in an ancient pattern of rivalry in which nations do not necessarily become world powers by some predetermined trajectory but do so rather by a series of often unforeseen human and natural events, by poor or inspired leadership, or through critical prior economic and military choices often not appreciated as pivotal at the time they were made."
Themes of Disruptive Strategies include: how dominant powers have responded militarily to threats posed by rising powers; how states have marshalled resources and forces necessary to attain their strategic goals; how adversaries use their advantages to exploit each other's weaknesses; the importance of anticipating and countering with superior skill and resources the enemy's preferred manner of combat; how successful powers have maintained cohesiveness in governance and coordination of political and military leadership; the value of taking calculated risks in wartime; how the genius of leaders can surpass a nation's advantages in geography, manpower, and technology; and why it is crucial for a nation to institutionalize expertise and sound policy making rather than rely on the brilliance and wisdom of a single leader.
The following are the contributing scholars and their respective essay topics: Paul A. Rahe considers the competitive ambitions of Sparta and Athens; Barry Strauss examines the Punic Wars fought between Carthage and Rome; Edward N. Luttwak focuses on a decisive military campaign between the Byzantine Empire and its nemesis, the Sasanians; Peter R. Mansoor describes the emergence of Sweden as a military power under the leadership of Gustavus Adolphus; Andrew Roberts studies the expansion of French influence during Napoleon's Italian campaign; and Michael R. Auslin explores a hypothetical conflict between the People's Republic of China and the United States in the year 2025.
Disruptive Strategies is available in hardcover and e-book formats. Click here to purchase.
About the Editor
David L. Berkey is a research fellow in classics and military history at the Hoover Institution, and an executive board member of its Working Group on the Role of Military History in Contemporary Conflict. He was previously a professor of history at California State University–Fresno.
Contributors: Michael R. Auslin; Payson J. Treat Distinguished Research Fellow in Contemporary Asia at the Hoover Institution; Edward N. Luttwak, contractor for the US Department of Defense and foreign policy consultant; Peter R. Mansoor, General Raymond E. Mason Chair of Military History at Ohio State University; Paul A. Rahe, Charles O. Lee and Louis K. Lee Chair in the Western Heritage at Hillsdale College; Andrew Roberts, Roger and Martha Mertz Visiting Fellow at the Hoover Institution; and Barry Strauss, visiting fellow at the Hoover Institution and professor of history and classics at Cornell University.
Acclaim for Disruptive Strategies:
"Disruptive Strategies captures the essence of military campaigns while remaining sensitive to the uniqueness of each and the complex causality of events. The reader will deepen his or her appreciation both for the interactive nature of war and the importance of identifying and exploiting shifts in the character of warfare. This book will help readers mature their own theory of war, gain a deeper appreciation for essential elements of success in war, and, perhaps most important, think clearly about how to deter war by anticipating evolutions in the means by which adversaries may intend to wage it. The editors and contributors are to be congratulated for producing compelling history relevant to contemporary issues of national security."
—H. R. McMaster, author of Battlegrounds: The Fight to Defend the Free World
"David Berkey has edited a wonderful study by a number of eminent strategic and military historians on the response by major powers to the threats posed by emergent powers. It represents a nuanced, intelligent discussion of what the past suggests about how American strategists need to think about the rise of the People's Republic of China with its military and economic power."
—Williamson Murray, professor emeritus, Ohio State University, and Marshall Professor, Marin Corps University
"The routine way to describe the contributors to this splendid book would be as 'distinguished scholars,' but each is far more than that: an interesting thinker able to communicate provocative insights with unfashionable clarity. Engaging with topics that range from ancient wars in the Mediterranean through early modern strategic upheaval in northern Europe and on into a projected East Asian future, the authors make history immediate and its lessons sharply relevant. It is rare, nowadays, to encounter a volume so compact yet so rich in thought."
—Ralph Peters, author of Cain at Gettysburg and Lines of Fire
For coverage opportunities, contact Jeffrey Marschner, 202-760-3187, jmarsch@stanford.edu.