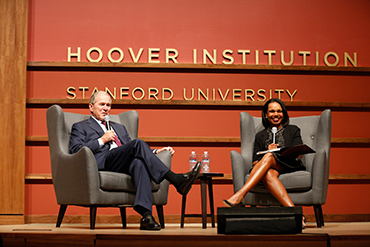 Hoover's 2017 Fall Retreat—featuring one of the institution's most distinguished guest speakers ever, the milestone dedication of the David and Joan Traitel Building, and a multi-day series of talks on restoring economic prosperity—was an extraordinary cap on a year of major accomplishments. Gathering Hoover's most generous supporters with the institution's top fellows and leadership, the event offered opportunities for celebration, learning, and most importantly, to thank Hoover donors for their dedication to economic freedom, private enterprise, and limited government.
High-profile guest speakers are a fixture of Hoover conferences, yet the keynote discussion at the 2017 Fall Retreat exceeded all expectations. It was an honor to have had President George W. Bush join us for a special conversation with Hoover Institution senior fellow Condoleezza Rice.
The opening day of the retreat also featured a milestone event in Hoover's nearly hundred-year history: the dedication of the David and Joan Traitel Building. The ceremony honored the generous contributors who made possible the construction of the new facility, which transforms Hoover's capabilities for hosting policy leaders, convening scholars, and engaging with supporters. Lead project sponsors recognized at the dedication include Hoover overseer David Traitel and his wife, Joan, in whose honor the building is named; Overseer William Blount; Overseer Arthur Hall and his wife, Joanne; and Overseer Everett Hauck and his wife, Jane.
The following two days brought leading Hoover fellows to the stage in Hauck Auditorium, the Traitel Building's state-of-the-art, light-filled, theater-style venue with seating to accommodate 400 guests. Their talks were organized around an issue that is central to current policy discussions and initiatives in Washington: restoring economic prosperity. The fellows' varying approaches to the topic reflected their different backgrounds in government and academia, but all pointed to sound economic analysis and free-market principles as the foundations for a stronger economic future.
Tom Gilligan, the Tad and Dianne Taube Director at Hoover, introduced the series with a report on recent accomplishments by Hoover fellows. Gilligan discussed a recent series of meetings in which Senior Fellows Edward Lazear, Joshua Rauh, and Michael Boskin briefed Treasury secretary Steve Mnuchin, National Economic Council director Gary Cohn, Council of Economic Advisers chair Kevin Hassett, and other senior White House and Congressional leaders on tax reform.
Gilligan also reported on recent Hoover Institution Leadership Forums that brought Office of Management and Budget Director Mick Mulvaney and Nebraska senator Ben Sasse to Hoover for roundtable meetings with fellows; a summer session of the Stuart Family Congressional Fellowship Program in which Capitol Hill staffers came to Hoover for an immersive, multi-day boot camp on cybersecurity issues; and the new Hoover Institution Summer Policy Boot Camp for college students and recent graduates.
Gilligan then introduced Russ Roberts, the John and Jean De Nault Research Fellow at Hoover, who delivered the opening talk of the series, titled "Restoring Faith in Prosperity."
"We've lost faith in the belief that economic growth lifts all boats," said Roberts, "and that to me is a little bit scary." He explained that in order to cultivate support for pro-growth policies, we must explain to the public that economic growth helps individuals at all levels—not just the wealthy.
Additional speakers examined economic prosperity from a wide variety of perspectives, including Senior Fellow Michael Boskin, chairman of the President's Council of Economic Advisers under President George H. W. Bush and one of the fellows who led the White House and Capitol Hill tax-reform briefings discussed by Gilligan in his opening report.
Boskin began with a warning that America's fiscal affairs will be the most important policy factor deciding "whether a generation from now America will be viewed as a successful society or a relatively sick one as Japan and the European stagnant economies have been." Like many of the presenters, Boskin closed on a positive note, predicting that America's core strengths such as its innovative companies, leading higher education system, and strong capital markets, combined with entitlement reform and other necessary fiscal policy changes, will restore the prospects for strong US economic growth.
In addition to Roberts and Boskin, other speakers included Tad and Dianne Taube Senior Fellow and 2017 Bradley Prize recipient Peter Berkowtiz, who introduced political philosophy to the discussion; Senior Fellow Caroline Hoxby, who spoke about the relationship between education policy and economic growth; as well Hoover fellows John Cochrane, Henry Miller, and Adam White, who participated in a panel discussion on regulatory reform moderated by Research Fellow David Henderson.
Martin and Illie Anderson Senior Fellow Victor Davis Hanson also spoke at the retreat, discussing his new book, The Second World Wars: How the First Global Conflict Was Fought and Won, in a private lunch for Hoover overseers and members of the Hoover Council Leadership Circle and Director's Circle. Former US congressman and Hoover National Security Affairs Fellowship Program alum Chris Gibson appeared for before-dinner remarks in Blount Hall, the Traitel Building's 440-person dining room decorated with artwork from the Hoover Library & Archives' world-renowned collection of more than 130,000 political posters. 
Hoover was honored to have celebrated the completion of the Traitel Building with the institution's closest friends and most generous supporters and to have shared such an extraordinary lineup of special guests and Hoover fellows as part of the 2017 Fall Retreat. Photos from the event are displayed in the slideshow below. In addition, two talks from the event, Michael Boskin on "The Fiscal Imperative to Restore Prosperity" and Research Fellow Jennifer Burns on "A View from the Hoover Archives: Milton Friedman on a Guaranteed Annual Income," have been made available online exclusively for friends and supporters of the Hoover Institution.