Introducing the 2014-2015 class of National Security Affairs Fellows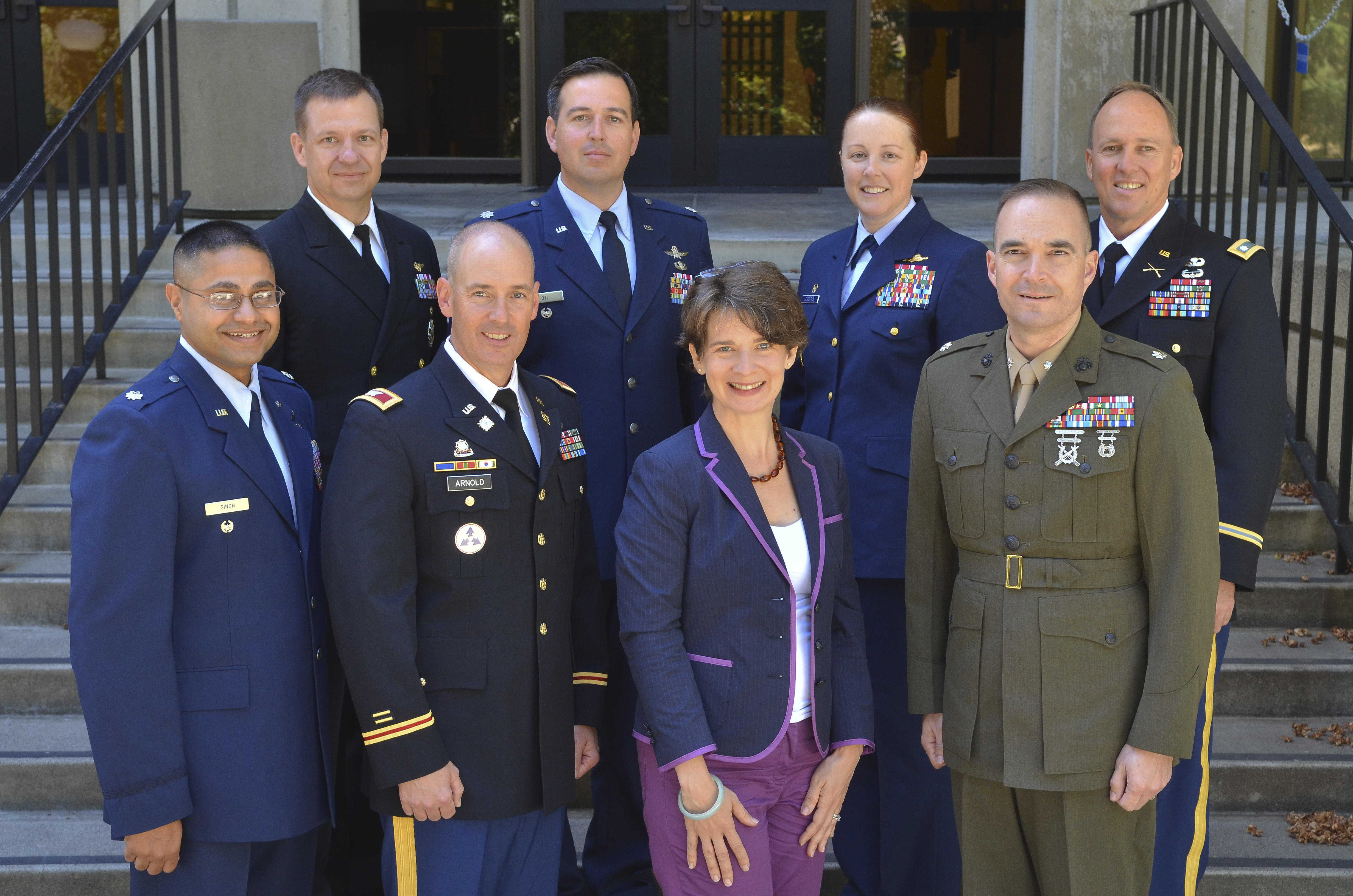 The Hoover Institution is proud to welcome the new class of National Security Affairs Fellows (NSAFs) for the 2014-15 academic year. The NSAF program offers representatives of the US military and government agencies the opportunity to conduct independent research on topics relevant to their respective branches of government and to the practice of diplomacy. Admission to the program is based on direct nominations from each governmental branch. Since the program began in 1969, more than 130 people have participated.
Below is a collection of the NSAFs bios.  To learn more about our fellows, check back at the Hoover website over the course of the year where, like with our previous NSAF class, we will be publishing individual features.  You can also learn more about NSAFs from previous years on the NSAF page.
The fellows in the group photo, at right are: Top row (from left to right): Ron Dowdell, Lt. Col. Enrique Oti, Commander Holly Harrison, Lt. Col. Michael Tougher; Bottom row (from left to right): Lt. Col. Sanjit Singh, Col. Michael Arnold, Caitlin Bergin, Joseph Allena (image credit: Rod Searcey)
---
Joseph Allena, representing the US Marine Corps, is a field artillery officer and a 1991 graduate of Texas A&M University, where he earned a bachelor of arts degree in political science. He holds master's degrees in military studies and in operational studies from Marine Corps University and the Marine Corps' School of Advanced Warfighting in Quantico, Virginia. Allena has served in a variety of operational billets in the Marine Corps, with assignments and deployments to the western Pacific, Mediterranean, and the Central Command area of responsibility. He deployed to Afghanistan with the 1st Marine Division as the Division's deputy operations officer, and again as an artillery battalion commander. He also served as the future operations officer for Marine Forces Central Command and as the future operations plans branch chief for U.S. Forces Korea. Most recently, he commanded the Marine Corps' Wounded Warrior Battalion-West at Camp Pendleton, California.
---
Colonel Michael Arnold was commissioned in the US Army in 1993 as a logistics officer.  In his first assignment in Germany, he was deployed to support peacekeeping operations in Operation Joint Endeavor in Bosnia Herzegovina.  In 1997, he was assigned to Fort Eustis, Virginia, where he was deployed to support Operation Desert Thunder in Kuwait and then Exercise Bright Star in Egypt.  In 2000 Colonel Arnold attended the Fletcher School of Law and Diplomacy at Tufts University and received a master's degree.  He was subsequently assigned as an assistant professor in the Department of Social Sciences at the United States Military Academy at West Point, New York.  In 2006, Colonel Arnold was assigned as the chief of plans and then as battalion executive officer in the Republic of Korea. In 2f08, Colonel Arnold deployed to Iraq where he focused on the responsible drawdown of forces, on redeployment he served as the professor of military science for the Army ROTC Program at San Diego State University.  He also began work in the PhD program at the School of Leadership and Education Sciences at the University of San Diego.  In 2011, Colonel Arnold was assigned as battalion commander for a US Army strategic seaport in Beaumont, Texas.  On completion of that command, Colonel Arnold served as the assistant chief of staff for logistics for the 2nd Infantry Division in the Republic of Korea.
---
Caitlin Bergin, representing the US Department of State, earned an undergraduate degree in history from Smith College and a master's in international relations from the Johns Hopkins School of Advanced International Studies. She also holds a certificate in Polish studies from Jagiellonian University where she was a Kosciusko Foundation Fellow.  A career diplomat, Bergin was most recently the public affairs officer at the US consulate in Montreal.  She previously served as a policy officer in the Washington-based Bureau of International Information Programs, where she led new and social media outreach strategy for US embassies in sub-Saharan Africa, for which she received the department's Superior Honor Award.  She also served as the public affairs officer at the US mission to UNESCO when the United States rejoined UNESCO after a nineteen-year absence.  Her other overseas tours include the US embassy in Moscow, and the US mission to NATO in Brussels. As a junior officer, Bergin served in the State Department's Bureau of South Central European Affairs in Washington.
---
Ron Dowdell, representing the US Navy, graduated from the US Naval Academy in 1994, earning a bachelor of science degree in economics.  He holds a master's degree in global leadership from the University of San Diego and a master's in national security studies from the Naval War College in Newport, Rhode Island.  In 1996, he was designated a naval aviator. He has served in several squadrons and ships deploying to the Western Pacific and Arabian Gulf in support of Operations Southern Watch, Enduring Freedom, Iraqi Freedom, and Indonesian tsunami relief efforts.  Ashore, Dowdell served on the joint staff for the director for Force Structure, Resources, and Assessment, J-8.  His most significant career milestone was serving as the commander of Helicopter Anti-Submarine Squadron Light Three Seven based at the marine corps base in Hawaii.
---
Commander Holly Harrison, representing the US Coast Guard (USCG), graduated from the US Coast Guard Academy in 1995 with a degree in government. She has a master's degree from Princeton University in public policy and a master's degree from George Washington University in education. A permanent cutterman, she has spent more than half her career at sea aboard five different ships, including command of the USCGC Aquidneck during the invasion of Iraq in support of Operation Iraqi Freedom and, most recently, command of USCGC Northland, a 270-foot cutter in Portsmouth, Virginia. She also served as the executive officer of the coast guard's Maritime Law Enforcement Academy, a program reviewer in the Officer of Budget and Programs, a strategic analyst in the Strategic Management and Doctrine Directorate, and the protocol officer for the commandant of the coast guard. Chosen by President Barack Obama to serve as a 2010-11 White House Fellow, she was a senior adviser to the administrator and acting deputy chief of staff of NASA. She plans to focus her research on the Arctic and sexual assault prevention.
---
Lieutenant Colonel Enrique Oti, representing the US Air Force, earned his undergraduate degree in history from the US Air Force Academy; he holds a master's degree in strategic intelligence from the Joint Military Intelligence College and a master's degree in international relations from Zhejiang University in Hangzhou, China, where he studied as an Olmsted Scholar.  He is a qualified cyber operations officer and regional affairs strategist (China) and has served in a variety of positions, including network operations, influence operations, strategic communication, and China strategy.  Most recently, he commanded an intelligence support squadron that supports the processing, exploitation, and dissemination of intelligence from the U-2 and RQ-4.  His research interests include Russian and Chinese policy and strategy for international cyber development and operations, as well as the US intelligence community's use of emerging technologies.    
---
Lieutenant Colonel Sanjit Singh, representing the US Air Force, holds a bachelor's degree in geography from the California State University, Fresno, and a master's degree in administration from Central Michigan University. He has also completed Air Command and Staff College and Air War College through Air University Distance Learning. He has served as an air force contracting officer, maintenance officer, executive officer, legislative fellow, and legislative assistant. Most recently he was the principal deputy legislative assistant to the chairman of the Joint Chiefs of Staff in Virginia. He is experienced in defense authorization, appropriations, and foreign affairs. He has deployed in support of Operation Desert Storm and Operation Enduring Freedom. He also served in the US Army and the US Army Reserve. His research focused on diversity in the air force, particularly from entry into the air force to senior leader officer and enlisted positions. Lieutenant Colonel Singh was born and raised in the Fiji Islands.
---
Lieutenant Colonel Michael Tougher, representing the US Army National Guard, enlisted in the Army National Guard in 1986 as an aircraft armament technician. In 1991, Tougher completed Officer Candidate School and was commissioned as a second lieutenant in the infantry. He has served as an infantry officer at every leadership level through battalion command and held human resources, finance, and operations positions throughout the Guam Army National Guard, including as commander of the 94thCivil Support Team–Weapons of Mass Destruction. Tougher has deployed to the Horn of Africa and recently to Afghanistan as the commander of Task Force Guam. He has participated in various exercises in the Republic of the Philippines, Malaysia, Indonesia, Thailand, and India.  Tougher holds a bachelor of science degree in economics and a master's in business administration.  He and his wife, Wendy, consider Guam home; they have two daughters in college and a son who is a US Army lieutenant.