President George W. Bush Meets with Hoover Institution Fellows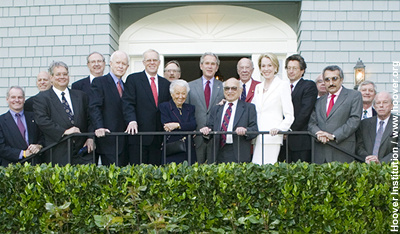 Hoover fellows and overseers, along with Stanford University officials, gather with President Bush (center) at the conclusion of the meeting.
---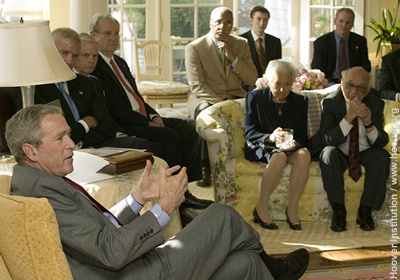 President George W. Bush meets with Hoover Institution fellows, overseers, and Stanford University officials on Friday, April 21.
---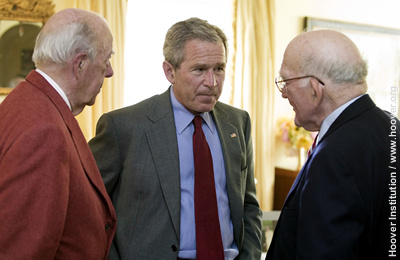 President Bush (center) listens to Hoover senior fellow Sidney Drell. At left is George P. Shultz, the Thomas W. and Susan B. Ford Distinguished Fellow.
---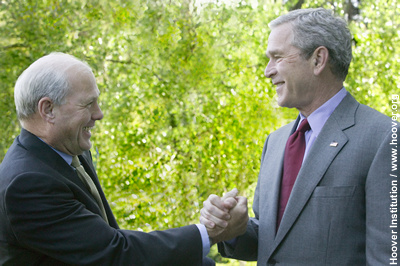 Hoover senior fellow John Cogan and President George W. Bush greet each other on Friday afternoon.
---
President George W. Bush met with Hoover Institution fellows at the residence of Distinguished Fellow George P. Shultz on Friday, April 21, as he began a four-day tour of Northern California.
While there, the president met with 30 Hoover Institution fellows, members of Hoover's Board of Overseers, and Stanford University's president and provost.
"It was an honor and privilege to welcome the president to meet with representatives of Hoover and Stanford on his recent visit to California," said Hoover director John Raisian. "We had a cordial discussion of prevailing public policy issues. Our time together was stimulating, as the president was in great spirits, offering his policy goals for the coming two years and hearing the comments and reactions of those in attendance.
"Many Hoover Institution fellows have been pleased to offer ideas for thoughtful consideration by the administration over the past six years and are excited to be part of a continuing dialogue going forward."
The Hoover Institution has served as a resource on public policy matters for many U.S. presidents. Hoover fellows met with Ronald Reagan as he prepared his campaign for the presidency. A number of Hoover fellows served in the Reagan administration, including Shultz, who was secretary of state.
When George W. Bush was governor of Texas and preparing his bid for the presidency, he sought the counsel of Hoover fellows. Condoleezza Rice, a Hoover senior fellow, was appointed U.S. secretary of state after serving as the national security adviser to the president. Senior Fellow Edward P. Lazear was selected to become chairman of the President's Council of Economic Advisers; Senior Fellow John Taylor served in a senior post in the Treasury Department under Bush; and Senior Fellow John Cogan has served as a longtime economic adviser to the president.
In February 2006, President Bush met with Hoover fellows and overseers during the Hoover Institution Board of Overseers meeting in Washington, D.C.
Photos by Steve Gladfelter/Stanford University Visual Art Services