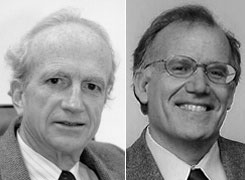 Earlier this year, President George W. Bush honored two Hoover Institution fellows with national awards. Gary Becker, the Rose-Marie and Jack R. Anderson Senior Fellow, was one of eight people who received the prestigious Presidential Medal of Freedom—the nation's highest civilian honor. As noted in his award citation, Becker was honored for "broaden[ing] the spectrum of economics and social science through his analysis of the interaction between economics and topics such as education, demography, and family organization. His work has helped improve the standard of living for people around the world." He is one of only two people (the other was the late Milton Friedman) who have been awarded both the Nobel Prize in Economics and the Presidential Medal of Freedom.
In a separate ceremony with the president, Victor Davis Hanson, the Martin and Illie Anderson Senior Fellow, was one of ten recipients of the National Humanities Medal. The medal honors those whose work has deepened the nation's understanding of the humanities, broadened citizens' engagement with the humanities, or helped preserve and expand America's access to important humanities resources. Hanson was a full-time farmer before he joined California State University, Fresno, in 1984 to initiate its classics program. In 1991, he was awarded the American Philological Association Excellence in Teaching Award, which is given yearly to the country's top undergraduate teachers of Greek and Latin.
Hanson also was a National Endowment for the Humanities fellow at the Center for Advanced Studies in the Behavioral Sciences, Stanford, California (1992–93), a visiting professor of classics at Stanford University (1991–92), a recipient of the Eric Breindel Award for opinion journalism (2002), and an Alexander Onassis Fellow (2001). Named alumnus of the year of the University of California, Santa Cruz (2002), he was also the visiting Shifrin Chair of Military History at the U.S. Naval Academy, Annapolis, Maryland (2002–3). He is a noted military historian and author.
In an unrelated ceremony, George Shultz, the Thomas W. and Susan B. Ford Distinguished Fellow, received the Truman Medal for Economic Policy. The award was established in 2005 by the the Harry S. Truman Library Institute to recognize exceptional economic policy contributions.
Click here to see photos from the Presidential Medal of Freedom award ceremony.