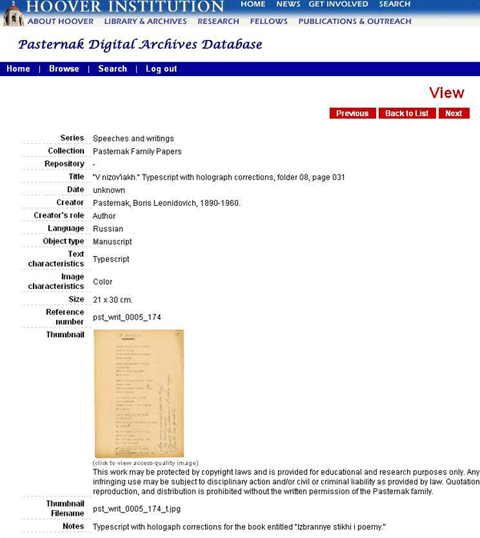 Hundreds of poems and letters have been added to the Pasternak family papers digital archive in the Hoover Archives reading room, including more than two hundred pages of Boris Pasternak's poems, chiefly typescript and holographic copies of poems such as "Vysokaia bolezn'," "Stikhi o Pushkine," "Sestra moia zhizn'," and "Marburg." More than four hundred letters from Boris Pasternak to family members and others, such as his friends Konstantin Loks and Segei Bobrov, Osip and Nadezhda Mandelshtam, and his cousin and lifelong friend Olga Freidenberg, have also become available.
These additions build on the digitized documents already in the database, including more than six hundred photographs, correspondence, and several drafts of Boris Pasternak's Doctor Zhivago. Scanned from original documents that remain with the Pasternak family in Moscow, these digital surrogates are available only at Hoover. Digital images continue to be added to the database.
Rights to the content of the digital images remain with the Pasternak family and are protected by copyright laws. As a result, the Hoover Institution is unable to post the images on the Internet.
This digital archive is part of a larger collection of Pasternak family papers housed at Hoover that includes papers of the poet and novelist Boris Pasternak; his father, artist Leonid Pasternak; his sister Josephine Pasternak; and other family members. Materials in the collection include correspondence, diaries, writings, drawings, photographs, and sound and video recordings pertaining to Russian art and literature, culture in the Soviet Union, and Russian émigré life. A finding aid to the physical and digital collection is available at the Online Archive of California.