"MERRILL'S MARAUDERS: GENERAL STILWELL'S INFANTRY FIGHTING WORLD WAR II IN BURMA, 1944"

The new exhibition, "Merrill's Marauders: General Stilwell's Infantry Fighting World War II in Burma, 1944," opens October 6 at the Hoover Institution, Stanford University.
This exhibition features the photographic record of the first American ground troops in Asia, all volunteers, as they stealthily fought behind enemy lines to re-establish an Allied supply route to China through northern Burma.
Historical film footage, taken during the Marauders' march by exhibit producer David Quaid, a member of the 164th Signal Photo Company Unit, will be shown.
Documents, diaries, and memorabilia from the Hoover Institution Archives, including the papers of General Joseph W. Stilwell, who was Commanding General of the China-Burma-India theater at the time, complement the pictorial essay.
The exhibition will be open from 11 a.m. to 4 p.m., Tuesday through Saturday through December 31, 1998. There is no charge for admission. The Herbert Hoover Memorial Exhibit Pavilion is located adjacent to Hoover Tower. For additional information and group tours, call 650/723-3563.
---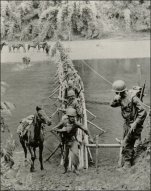 Exhibit Opens October 6 at Hoover Institution.