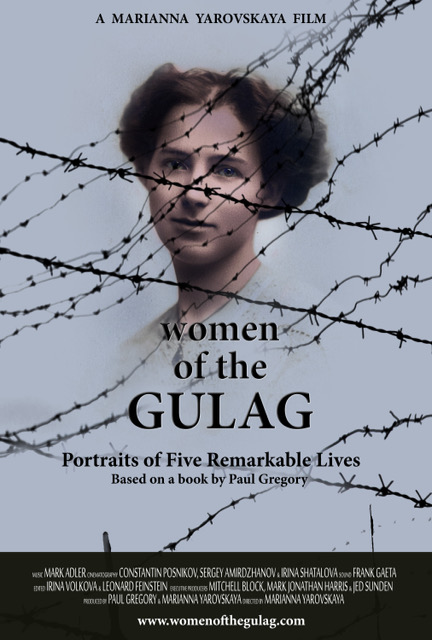 Women of the Gulag, a documentary film based on Hoover Fellow Paul Gregory's Hoover Institution Press book of the same title, has been named the Best Non-European Independent Documentary in the 2019 European Independent Documentary Film Festival held in Paris.
The film, directed by Marianna Yarovskaya of MayFilms and produced by her and Gregory, was also shortlisted in the best documentary category in the 2019 Academy Awards competition.
Drawing upon Gregory's 2013 book, Women of the Gulag: Portraits of Five Remarkable Lives, the film tells the compelling and tragic stories of women who survived the Gulag— the brutal system of repression and terror that devastated the Soviet population, particularly during the Stalin dictatorship.
Women of the Gulag was first screened on September 21 in Santa Monica and in New York shortly thereafter. The John Batchelor radio show earlier this year featured an interview with Gregory on the subject, and in 2013, Gregory talked about his research for the book on CSPAN's BookTV.
Both the film and book draw from Gregory's research on the oft-forgotten female victims of the Gulag. The works document Stalin's rise to power, the history of the Gulag, and the context behind one of the bloodiest dictatorships of the twentieth century.
Gregory offers the narratives as oral histories from the female perspective, tracing the stories of the women from their pre-Gulag lives, through their struggles to survive in the repressive atmosphere of the late 1930s and early 1940s, to their difficulties as they adjusted to life after the Gulag.
Gregory described the project: "I wrote Women of the Gulag using Hoover's Library & Archives for my research," he said. "The narrative called for sufficiently detailed, largely unpublished memoirs of women survivors of the Gulag. These I obtained largely from records of the Sakharov Foundation I had to reconstruct the biography of one character (a public figure) from monographs and journals located in the Hoover Library and from Hoover archival materials. The Hoover Library played more of a role than I expected because of its rich holdings of books and journals from the early Soviet period."
During the course of his research, he discovered more than he originally expected.
"My first surprise was that I could gather enough information from the above sources to breathe life into the five remarkable women whose lives I was chronicling," he said, adding that three of the women were still alive in their upper 80s and lower 90s, and that they readily agreed to be filmed.
Gregory urges more coverage of the Stalinist period by the arts community. "Hollywood has been remarkably absent in the coverage of Stalinist crimes against humanity. Perhaps Women of the Gulag will be a turning point," he said.
---
MEDIA CONTACTS:
Clifton B. Parker, Hoover Institution: (650) 498-5204, cbparker@stanford.edu