Hoover Institution (Phoenix, AZ) – The Hoover Institution hosted overseers and supporters for its spring retreat in Phoenix, Arizona, from Friday, April 14, through Sunday, April 16, marking the second year that the annual event was hosted in the Grand Canyon State.
The retreat centered on various issues in policy research that are a priority of the Hoover Institution, including how the United States can work with likeminded partners to protect its interests, advance global peace and prosperity, and counter threats from authoritarian forces such as Russia, China, and Iran. Hoover fellows also presented on domestic issues, including permanent shifts in hybrid and remote work patterns; how to broaden access to health care and lower its costs; and what actions can be taken to improve civic engagement in America.
Spring 2023 Retreat Introduction
Condoleezza Rice, Tad and Dianne Taube Director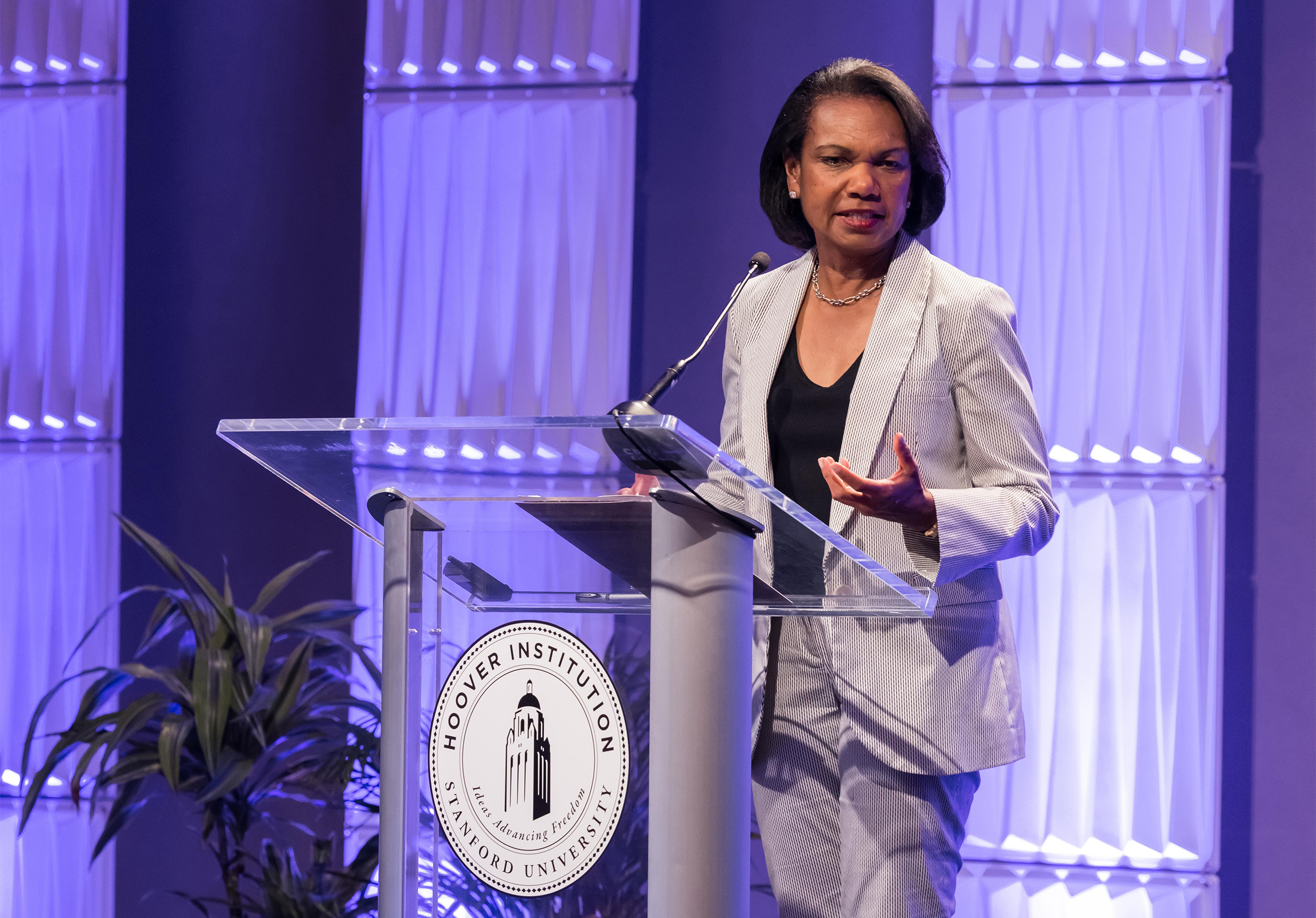 In her opening remarks at the retreat, Tad and Dianne Taube Director Condoleezza Rice provided an update of the Institution's initiatives. She announced the appointments of two prominent economists to the senior fellowship: Steven J. Davis (a retreat presenter later that day) of the University of Chicago's Booth School of Business and Ross Levine of the University of California–Berkeley Haas School of Business.
Rice also announced the fall 2023 publication of the Stanford Emerging Technology Review, a new multidisciplinary collaboration in which scholars from the Hoover Institution and Stanford University at large will discuss contributions of university researchers in areas of cutting-edge technology. The objective of the Review, she explained, is to produce periodic reports on how these new technologies may impact the future of the economy, national security, democratic institutions, and other policy areas. She underscored that since technology is rapidly and continuously evolving, this initiative won't be limited to the publication of reports. The Hoover Institution, together with leadership at the Stanford University School of Engineering, will be hosting conferences, seminars, and workshops on a continual basis.
Finally, Rice told the audience that on May 4 and 5, Hoover's new Center for Revitalizing American Institutions would host its inaugural conference. Rice affirmed that it is institutions bequeathed by the founders—such as the separation of powers, federalism, the courts, and elections—that have made self-government work in America for the better part of three centuries. At the May conference, experts planned to address challenges in American democratic systems and processes and consider policies to strengthen their resilience.
Click here to learn more about the Stanford Emerging Technology Review.
Click here to learn more about the Hoover Institution's work on "Revitalizing American Institutions."
Meeting the China Challenge
Larry Diamond, Wilton L. Clayton Senior Fellow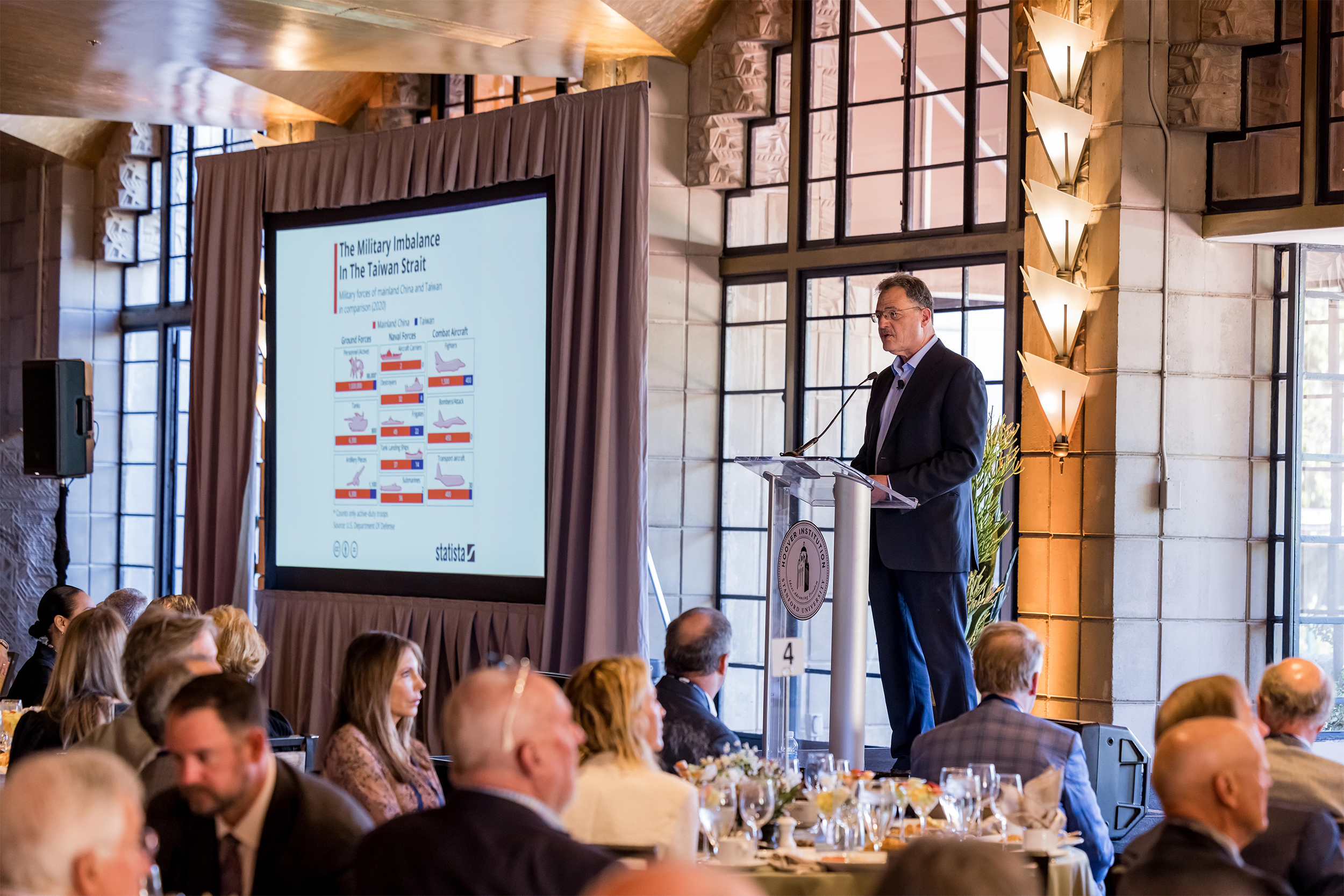 In the first session of the retreat, Larry Diamond, William L. Clayton Senior Fellow, discussed the work of two of the Hoover projects he cochairs, China's Global Sharp Power and Taiwan in the Indo-Pacific Region.
Diamond talked about China's attempts to control political narratives in order to garner support for its policy preferences and achieve its objectives for global leadership. He also illustrated the military balance in the Taiwan Strait and what it would take to deter People's Liberation Army aggression against Taiwan.
Through the China's Global Sharp Power Project, Diamond and cochair Glenn Tiffert recently published China's Grand Strategy for Global Data Dominance, a new report by visiting fellow Matthew Johnson that details how the Chinese Communist Party enlists its national companies to accumulate and control data at a global scale. According to the author, the origin of this strategy starts with Chinese President Xi Jinping, who sees a vast ocean of data as containing immense productive power and opportunities, similar to oil resources during the Industrial Revolution. Whoever controls big data technologies, Xi believes, will have the advantage over competitors in global contests.
Click here to read "Deterring a Chinese Military Attack on Taiwan," an essay by Larry Diamond and Admiral James O. Ellis Jr., which was published by the Bulletin of the Atomic Scientists.
Click here to read China's Grand Strategy for Global Data Dominance, by Matthew Johnson.
Regaining Strategic Competence
H. R. McMaster, Fouad and Michelle Ajami Senior Fellow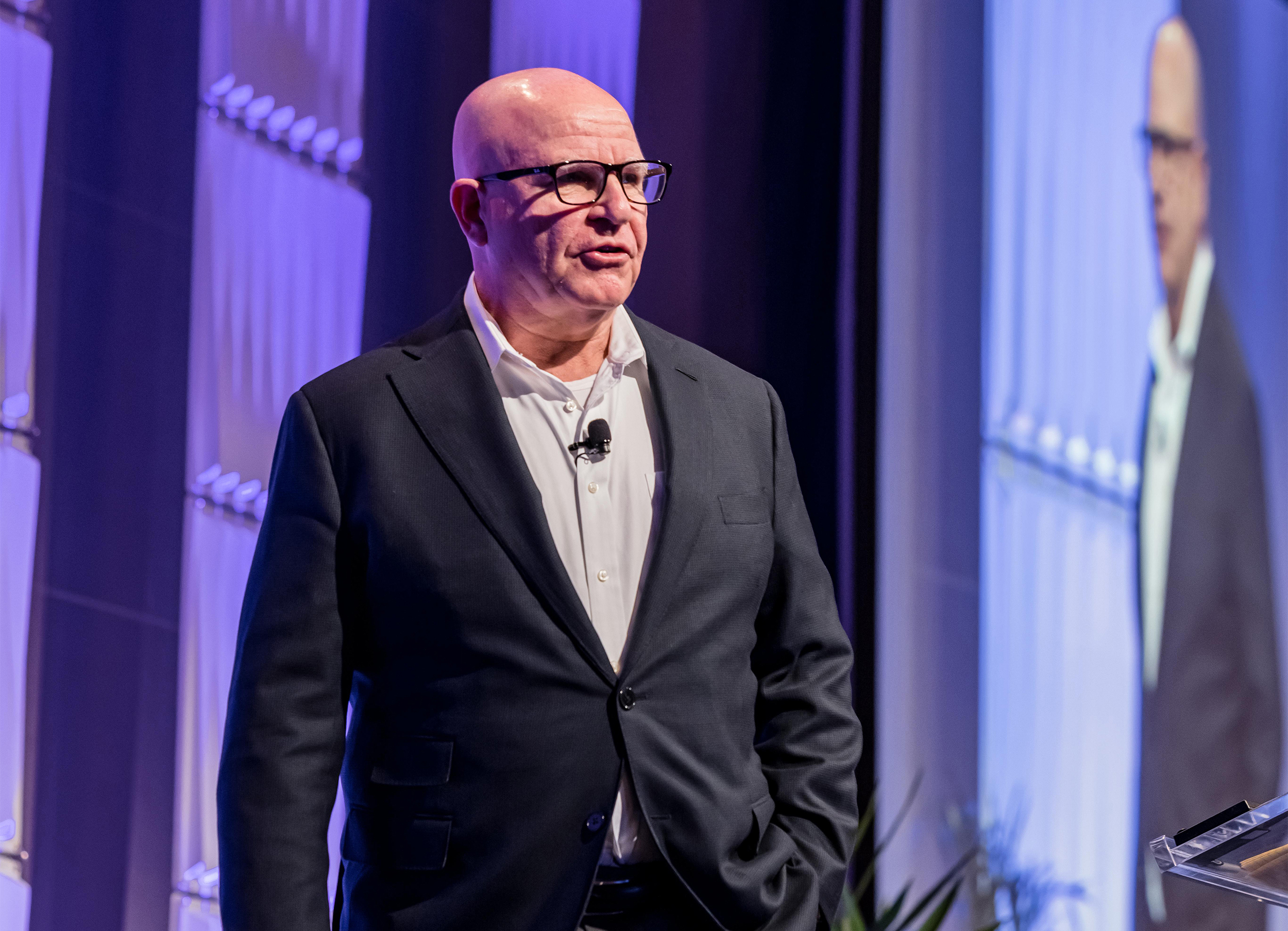 In the second Friday morning presentation, Fouad and Michelle Ajami Senior Fellow H. R. McMaster provided an overview of arenas of conflict and described how the United States can regain confidence as a global leader as well as competence in developing its national security policy strategies.
McMaster asserted that aside from the return of the Taliban to power, there are other significant geostrategic consequences of the United States' hasty withdrawal from Afghanistan.
Russia and China have been emboldened to fill the global leadership in arenas where the United States has historically had a strong presence. Five months after the fall of Kabul, Russia went undeterred in its invasion of Ukraine. Meanwhile, China has been escalating its threats to reunify Taiwan to the mainland by force. There is also a perception in many parts of the world that the United States is an unreliable security partner.
McMaster offered a series of recommendations for American reengagement and leadership in the world. These include: (1) developing clear-sighted strategies by understanding fully the level of cooperation between Moscow and China; (2) strengthening the capacity and will of the West so that it can effectively signal to authoritarians that they would pay a high price for aggression; (3) expanding America's innovation base and bolstering critical supply chains, especially in the area of energy production; (4) taking the lead in isolating repressive regimes; and (5) restoring confidence in America's democratic institutions and processes.
Click here to order H. R. McMaster's book, Battlegrounds: The Fight to Defend the Free World (Harper Collins, 2020).
Click here to watch episodes of Battlegrounds, a Hoover broadcast in which McMaster interviews leaders from across the world for their perspectives on crucial challenges to security and prosperity.
Future of Work
Steven J. Davis, Senior Fellow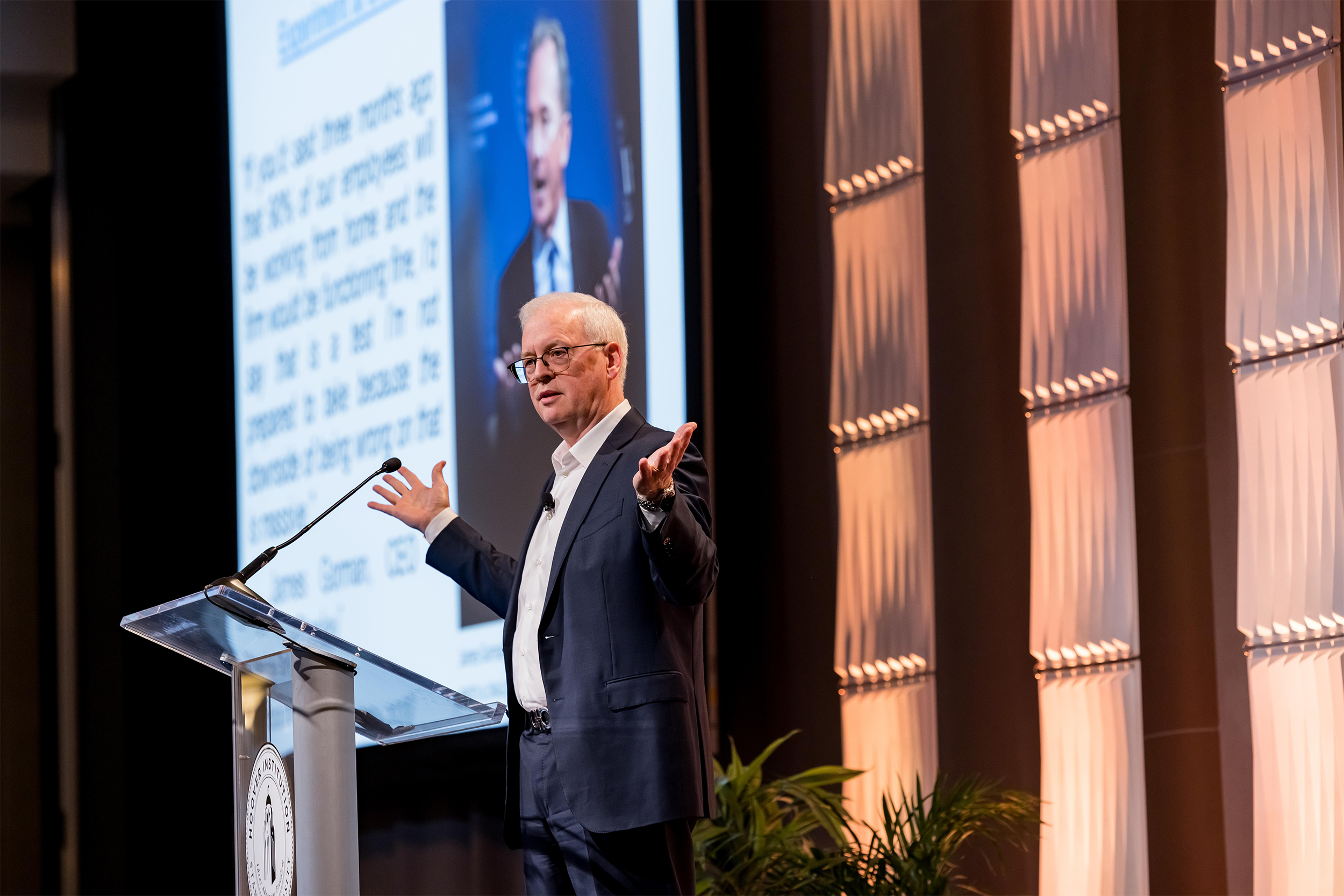 Economist Steven Davis, who will become a full-time senior fellow at the Hoover Institution this fall, gave a presentation on how COVID-19 workplace arrangements are likely to remain permanent for significant proportions of Americans.
According to Davis's research, nearly 30 percent of workers are hybrid, and another 12 percent are fully remote, even after the pandemic waned. He cited five reasons why he believes this shift will be permanent: (1) positive experiences among employers and employees during the pandemic period; (2) companies' significant investments in equipment, systems, and processes that facilitate work-from-home arrangements; (3) surges in technological innovation that support remote and hybrid work; (4) attitudinal shifts, including a decline in the stigma placed on working from home and an increase of people who prefer such arrangements because of risks of infectious diseases; and (5) strict lockdowns during the pandemic that resulted in higher levels of planned work-from-home arrangements that remained in place after COVID-19 had dissipated.
Davis said remote work options are valued for letting employees invest time saved from commuting into focusing on their work; spend more time with family; and enjoy the comforts of their home environment. Working from home is most popular among educated people (men and women both) in their thirties. He said that many in this age group place great value on job flexibility that allows them to care for their children.
Davis said this permanent shift to remote work hasn't been without negative consequences. As a result of fewer inward commuters, metropolitan areas like San Francisco have experienced drops in commercial activity and erosions in the tax base and public transit revenue. Moreover, those cities that fail to control crime, offer adequate schools, and levy taxes commensurate with services are now particularly exposed to a "doom loop" whereby the outmigration of people and businesses will lead to reductions in revenues and further degradations in public services.
Click here to watch Steven Davis's presentation on the topic of remote work trends with Hoover's Economic Policy Working Group on November 30, 2022.
Click here to read presentation slides.
Click here to read Davis's research paper, "Working from Home Around the World."
Conversation with US Representative Juan Ciscomani of Arizona
US Rep. Juan Ciscomani (Arizona); and Condoleezza Rice, Tad and Dianne Taube Director
During the Friday lunch, Secretary Rice conducted an off-the-record discussion with Congressman Juan Ciscomani from Tucson, Arizona, about his origins as an immigrant from Hermosillo, Mexico, and his career so far as a freshman member of the US House of Representatives.
Click here to watch Congressman Ciscomani's speech nominating Kevin McCarthy for House Speaker.
The Imperatives of US-India Strategic Cooperation
Ambassador David C. Mulford, distinguished visiting fellow; Sumit Ganguly, visiting fellow; Dinsha Mistree, research fellow; and Denise Elson, associate director of institutional programming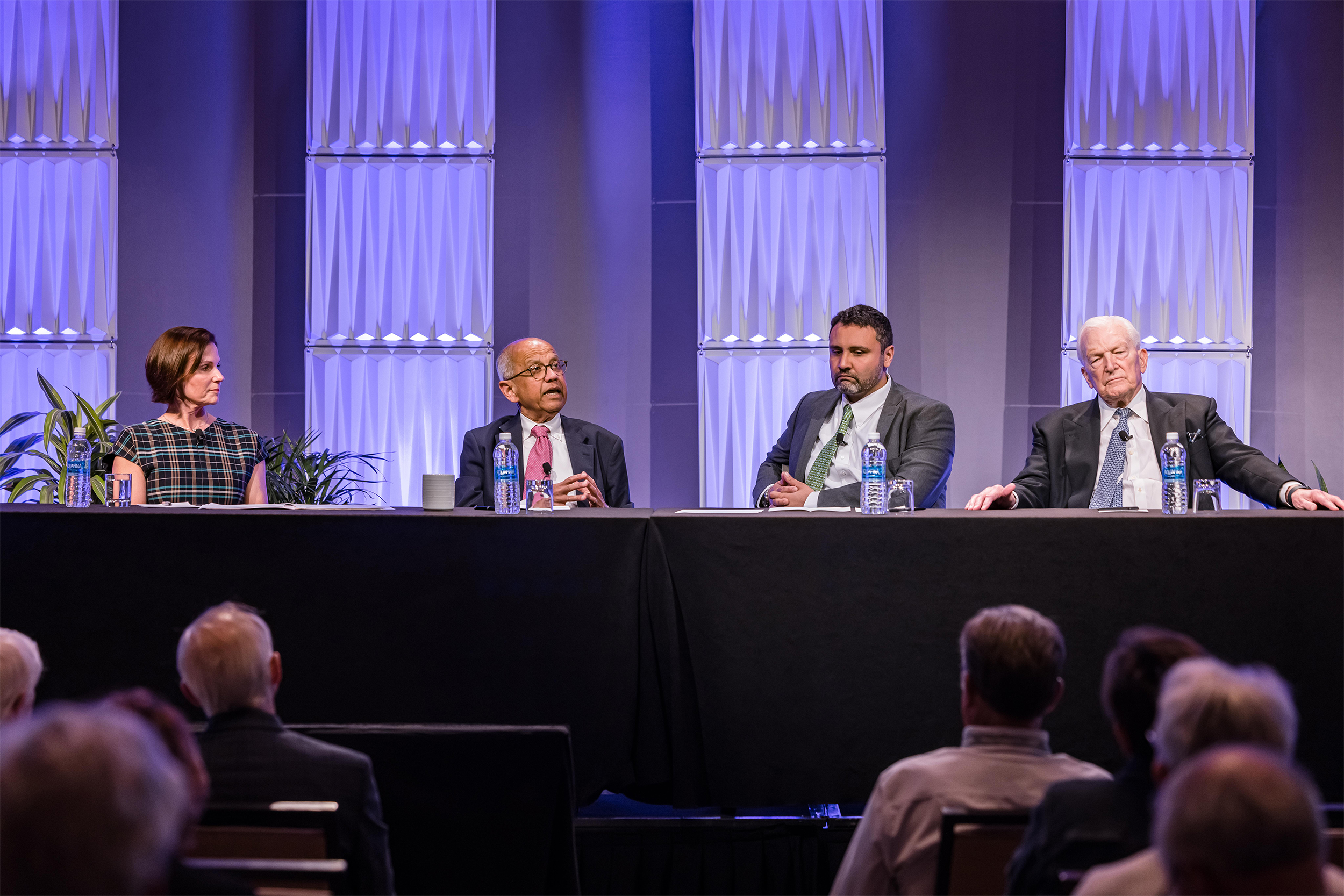 In the first Friday afternoon session, Hoover fellows described the work of the Institution's Strengthening US-India Relations program and a February 2023 visit to New Delhi by Rice and a delegation of Hoover fellows.
During the New Delhi trip, the Hoover delegation met with Indian policy, business, and academic leaders and hosted a symposium in partnership with the country's largest conglomerate, Tata Sons, which explored how the United States and India can expand cooperation in technology, supply chains, energy and natural resources, and other policy areas for the mutual benefit of both nations and global stability and prosperity. Shortly after the trip, the Hoover Institution announced a new senior fellowship in US-India relations supported by the generosity of the Harold W. McGraw III Foundation.
At the retreat, David Mulford, former US ambassador to India and chair of the Strengthening US-India Relations program, argued that India was the United States' potentially most important strategic partner in the Indo-Pacific region and the world at large. Mulford listed several reasons for his assertion, including the size of India's economy and population, the robust level of bilateral trade and private sector partnerships between the United States and India, and a shared strategic vision for keeping the Indo-Pacific region free and open for commerce and governed by rules and norms that protect the rights and interests of countries in the region.
Visiting fellow Sumit Ganguly explained that India also has domestic challenges that may hamper its capacity to be a leader in Asia. The People's Liberation Army's 2020 border incursion in the Himalayas was a major wakeup call to Indian leaders, Ganguly said. India's military is just one-sixth the size of the PLA and New Delhi's defense budget is just one-third that of Beijing's. Thus, India cannot be expected to stand up to China on its own.
Click here to read "America's Exceptional Opportunity with India," an essay by David C. Mulford in Defining Ideas.
Click here to read "India's Congress Party is Still in Decline," an essay by Sumit Ganguly and Dinsha Mistree in Foreign Policy.
Veteran Fellowship Program (VFP)
Denise Elson, director of institutional programming; Philip Caruso, VFP; Dave Foster, VFP; Dyan Gibbens, VFP; Brian O'Connor, VFP; and Mike Wendler, VFP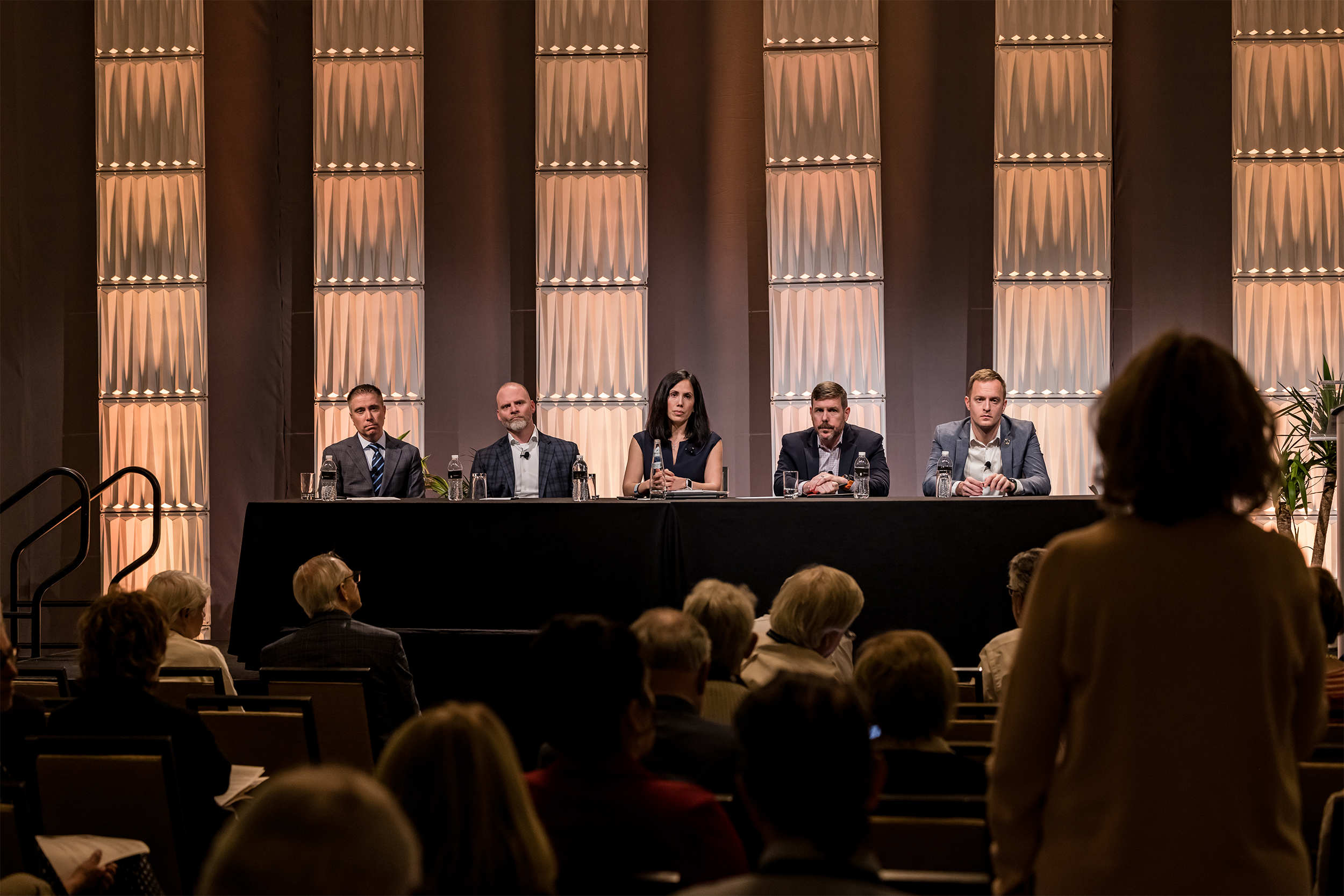 In the second Friday afternoon session, Denise Elson, Hoover director of institutional programming, introduced members of the Veteran Fellowship Program (VFP) who gave presentations about their capstone projects, in which they developed actionable solutions to policy challenges in their communities.
Each year, the VFP selects ten armed forces veterans who served in the past twenty years, demonstrated leadership and success as mid-career professionals in the private sector, and are committed to the Hoover Institution's overall mission of advancing ideas for free societies.
The five veteran fellows represented and their capstones are as follows:
Philip Caruso (US Air Force), senior associate at Onex Partners
Capstone: Caruso is advocating for the permanent special immigrant visa (SIV) for foreign nationals who are employed by the US government worldwide.
Click here to read Caruso's New York Times essay, "Our Allies Deserve Better than Starvation and a Life on the Run."
David Foster (US Army), president and CEO of CFB Real Estate
Capstone: Foster is building on a $125 million fund of private capital to create affordable housing for homeless veterans.
Dyan Gibbens (US Air Force), CEO of Turnbull and adviser at AFWERX and SPACEWERX
Capstone: Gibbens is generating op-eds to engage, equip, and empower key stakeholders within the space industry and reinvigorate the United States as the principled leader in space.
Brian O'Connor (US Marine Corps), founder of Veterans Enhanced Technology Solutions (VETS)
Capstone: In coordination with California's Central Valley school districts and curriculum developers, O'Connor is developing a technology apprenticeship pilot program for low-income students.
Mike Wendler (US Marine Corps), Superior Court judge in San Mateo County
Capstone: Wendler is creating baseline research to appropriately address mental health in the criminal justice system.
Click here to learn more about the Hoover Veteran Fellowship Program (VFP).
Stanford Civics Initiative
Josiah Ober, Senior Fellow; Condoleezza Rice, Tad and Dianne Taube Director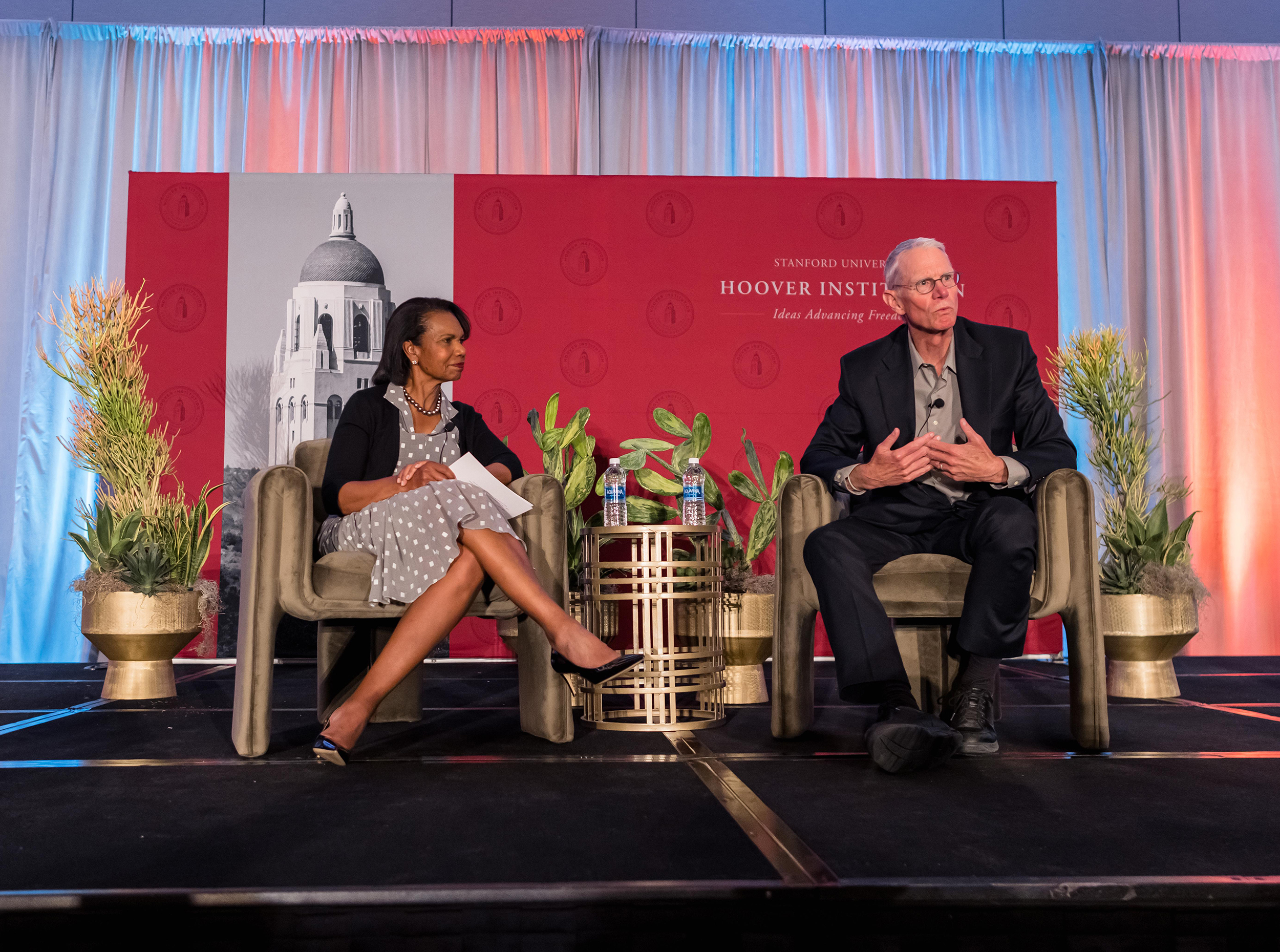 In a dinner conversation with Rice, senior fellow (and Stanford professor of political science and the classics) Josiah Ober described the work of the Stanford Civics Initiative he founded and directs. Now in its fourth year, the goal of SCI is to address, free from ideological bent, the dearth of civics education in America, teach about the history of democratic institutions, and inform students about the norms and habits of citizenship in a free society.
In the last two years, SCI has expanded its offerings to include courses taught by Hoover fellows. Tad and Dianne Taube Senior Fellow Peter Berkowitz teaches a course on the history and philosophy of conservatism. Together with Kleinheinz Senior Fellow Stephen Kotkin, Rice teaches Global Futures: History, Statecraft, Systems, which explores the movements, ideas, and principles that have built the modern world.
Click here to learn more about the Stanford Civics Initiative.
Click here to pre-order The Civic Bargain: How Democracy Survives (Princeton University Press, 2023), by Josiah Ober and coauthor Brook Manville.
New World Disorder
Nicholas Carter, distinguished visiting fellow; Admiral James O. Ellis Jr., Annenberg Distinguished Visiting Fellow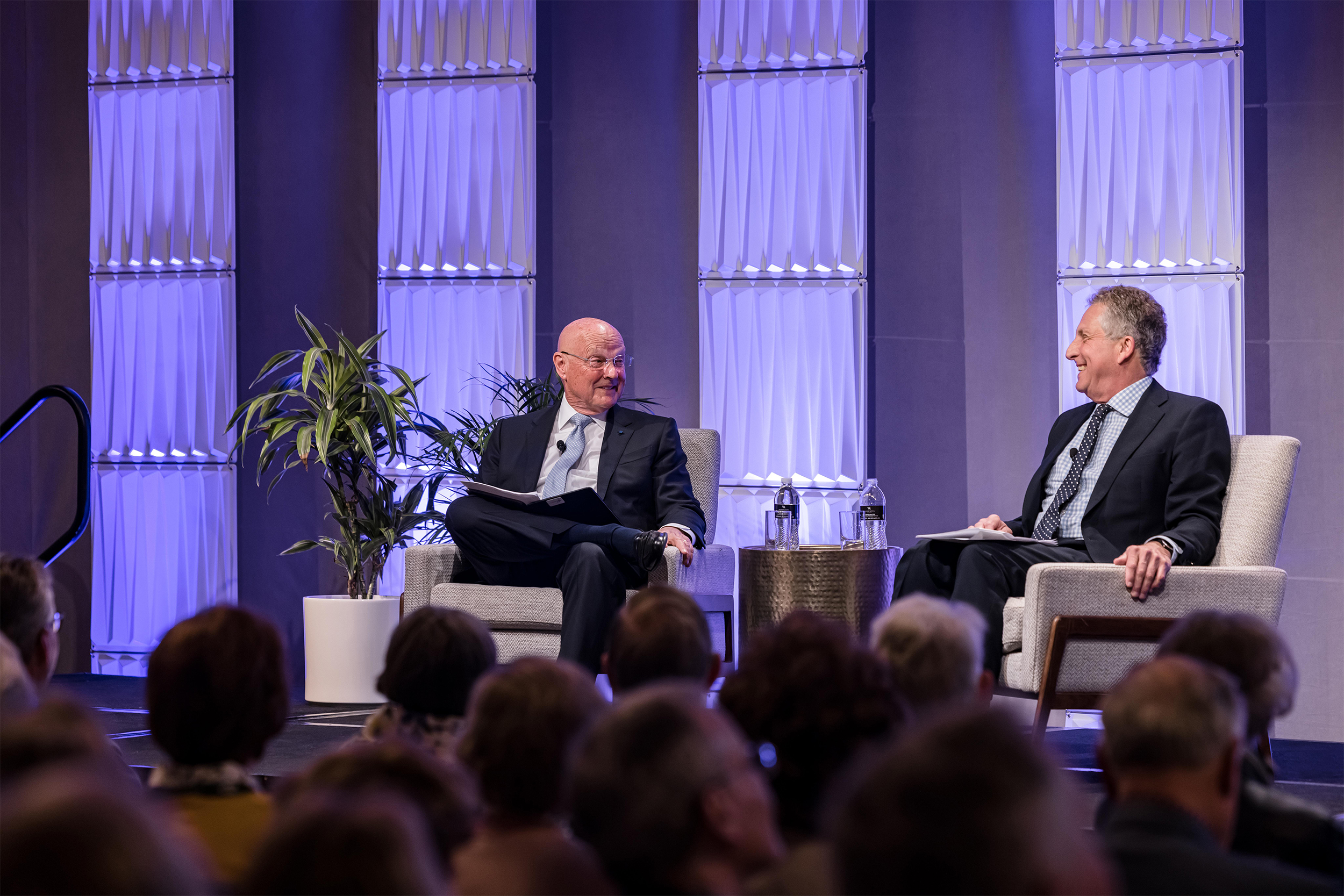 The second day of the 2022 spring retreat kicked off with remarks by General Sir Nicholas Carter, the former chief of defense staff of the United Kingdom's armed forces and newly appointed distinguished visiting fellow at Hoover. The forty-five-year military veteran was interviewed by Admiral Ellis on the political dimensions of the NATO alliance, the status of the war in Ukraine, the nature of warfare in the modern era, and the fallout from America's ignominious withdrawal from Afghanistan in August 2021.
Carter explained that one of NATO's challenges is that its member countries invariably prioritize their own interests over collective security. Although Europe strengthened its unity and resolve following Russia's invasion of Ukraine, the strong presence of defense industry interests among member countries has translated into a lack of coordinated response in the delivery of equipment and munitions. Carter maintained that the West cannot sustain support for Kyiv indefinitely. He said that a difficult conversation needs to be had with Ukrainian President Zelensky about clearly defining military objectives.
The former UK military leader also asserted that the current nature of world politics makes it increasingly difficult to distinguish between war and peace. Authoritarian regimes, through information warfare and other gray zone activities, continually attempt to undermine the democratic institutions and processes in the West. America and its allies thus need to improve their capabilities to operate below the threshold of conflict. Carter underscored that protecting democratic institutions at home will strengthen the West's ability to advance them globally.
Click here to watch the latest episode of Battlegrounds, in which Sir Nicholas Carter talks with H. R. McMaster about his experiences in the British military, the war in Ukraine, the implications of the US and Coalition withdrawal from Afghanistan, and the future of warfare.
Obamacare is Here to Stay, So What's Next?
Lanhee J. Chen, David and Dianne Steffy Fellow in American Public Policy Studies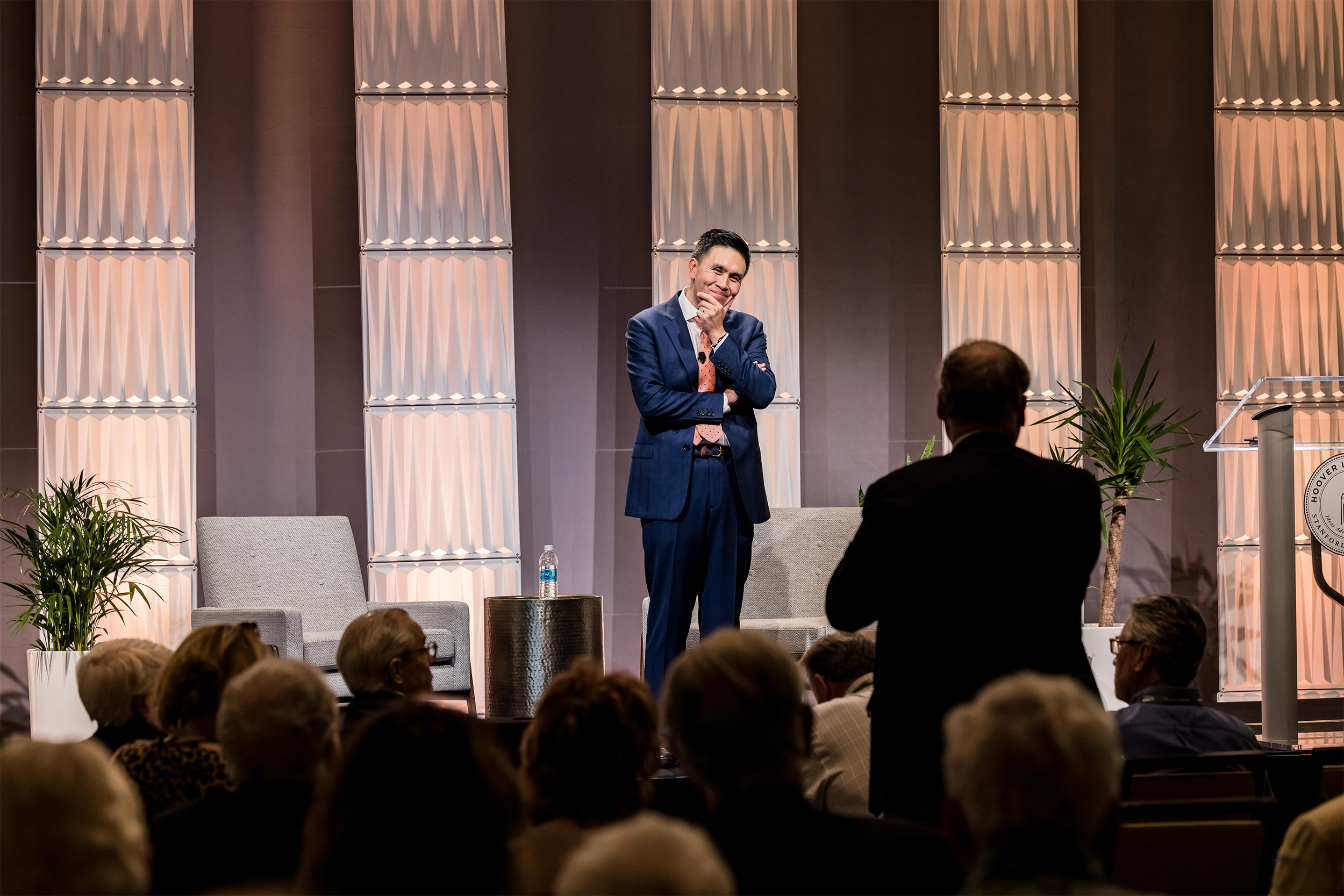 In the second Saturday morning session, Lanhee Chen, the David and Dianne Steffy Fellow in American Public Policy Studies, gave a presentation on how to expand access and lower costs in the American health care system.
Chen explained that the aim of the Affordable Care Act (Obamacare) was to guarantee that all Americans had access to affordable health care. But twelve years since that law was passed, 25 million US citizens remain uninsured. If meaningful reforms are not made to the health system, Chen said, the costs will continue to escalate, contribute to ballooning deficits and a long-term debt picture, and thus constrain future access to care.
Chen argued that although the ACA's structure is here to stay, incentives can be built into the system that expand the supply of providers, encourage medical innovation, and lower costs.
Chen outlined the following solutions based on the principle of empowering health care consumers: (1) making health care transactions more transparent so that patients pay closer attention to prices; (2) extending tax advantages to people who pay medical costs out of pocket or buy insurance tailored to their individual needs; (3) allowing states to experiment with health savings accounts for their Medicaid populations; and (4) encouraging state-led reforms to expand the supply of care, such as making it easier for medical facilities to open and breaking down restrictions on telehealth.
Click here to read "Coming Together to Improve America's Health Care System—And Our Fiscal Condition," an essay Lanhee Chen authored for the Peter G. Peterson Foundation. 
Women, Life, Freedom: A Clarion Call for a Democratic Iran
Abbas Milani, research fellow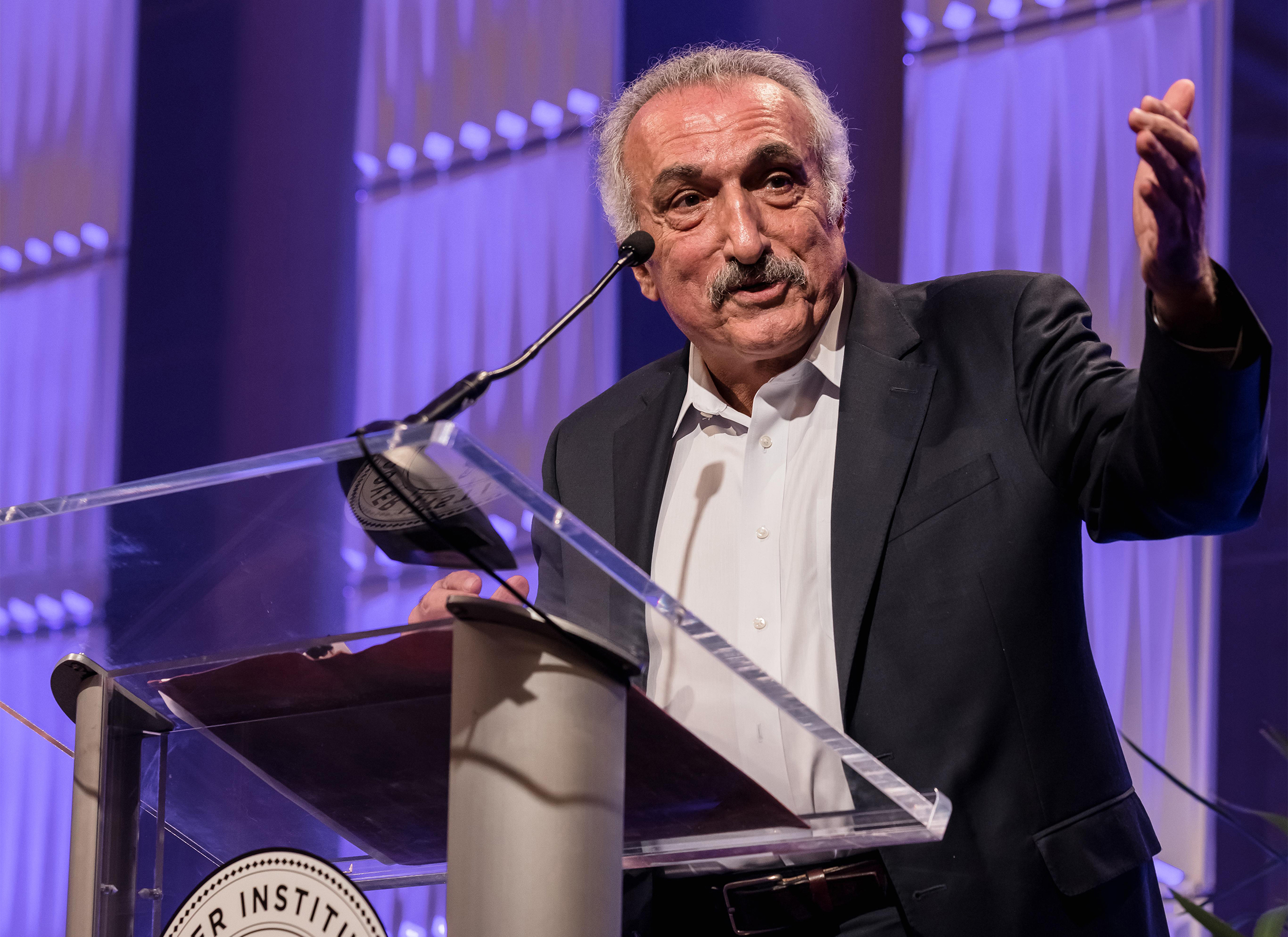 In the first Saturday afternoon presentation, research fellow Abbas Milani described how China has been gaining an outsize influence in the Middle East, in particular the Persian Gulf region. The challenge, he explained, is that Beijing, as it is elsewhere in the world, is exporting ideas that express the desirability of authoritarian systems of governance over free, liberal, and democratic ones. These developments are so worrisome, he said, because the world is now in an epochal age in which artificial intelligence, facial recognition, and other cutting-edge technologies can be readily accessed and used by autocratic regimes to repress dissenting voices among their populations.
Milani explained how Iran's governing regime has deepened its ties with Moscow and Beijing to preserve its political future and advance its regional interests. Iran has supplied drones to Russian forces in support of its ongoing assault on Ukraine. China, as described by Milani, has exhibited adroitness in its diplomacy by filling the void of US leadership in the Middle East. This year Beijing achieved the unthinkable when it brokered a normalization agreement between Iran and rival Saudi Arabia. In securing this deal, China has thrown a political lifeline to the economically troubled and internationally isolated regime in Tehran, Milani maintained.
Milani said that the regime has received another lifeline from the Biden administration, which is eager to restart negotiations for the Joint Comprehensive Plan of Action, despite knowing that Tehran is on the verge of enriching weapons-grade uranium.  Nevertheless, Milani is hopeful for change in Iran. Domestic resistance to the regime has never been stronger, as evident in large numbers of women engaged in unremitting protests against a law mandating that they wear head coverings, as well as an organized, well-educated, and economically thriving diaspora community eager to help its home country usher in a democratic transition. 
Click here to read "How China's Saudi-Iran Deal Can Serve US Interests," an essay Abbas Milani coauthored with Peter and Helen Bing Senior Fellow Michael McFaul.
The President's Council of Economic Advisers
Michael Boskin, Wohlford Family Senior Fellow; Kevin Hassett, distinguished visiting fellow; and Tyler Goodspeed, Kleinheinz Fellow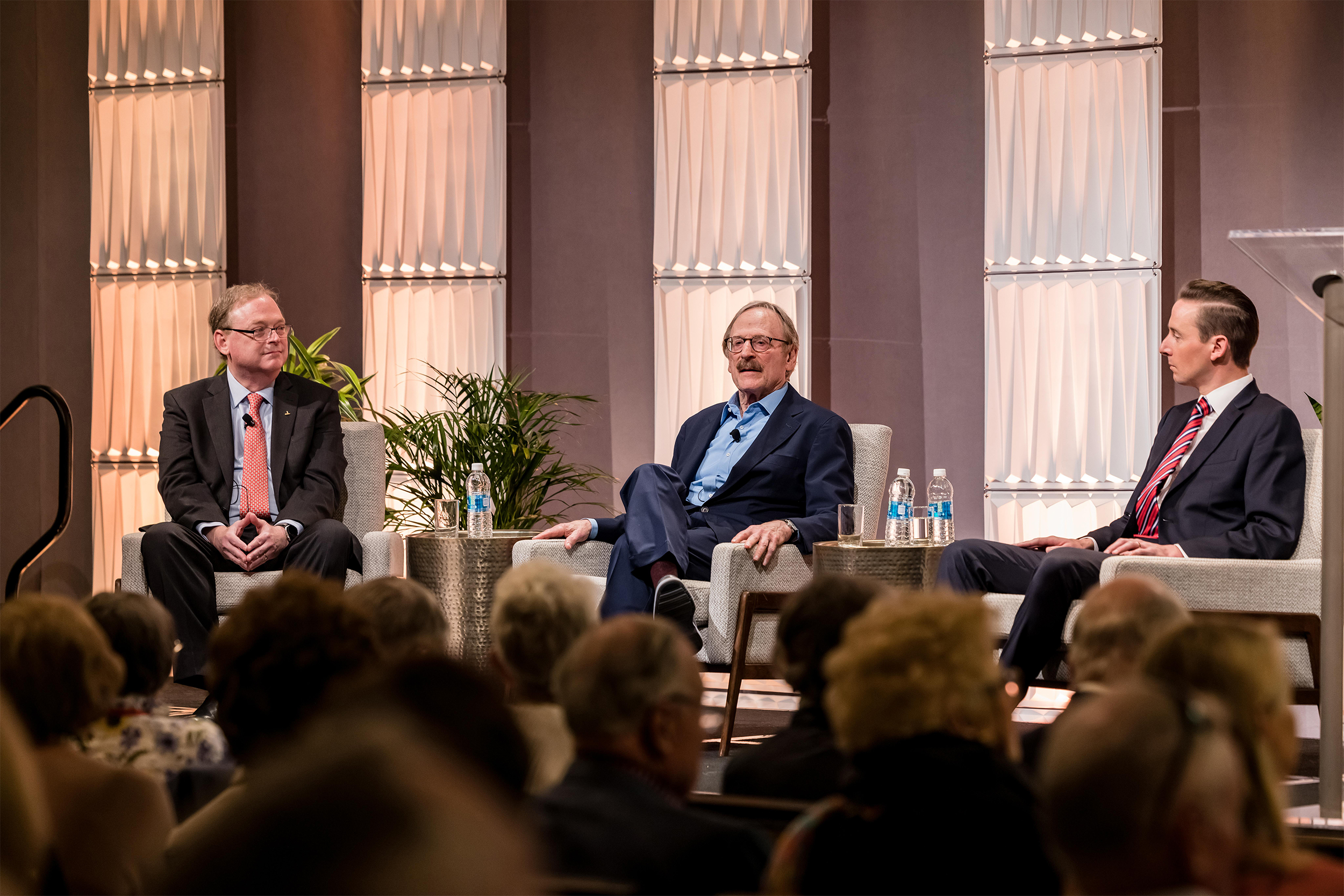 In the second Saturday afternoon presentation, Wohlford Family Senior Fellow Michael Boskin, distinguished visiting fellow Kevin Hassett, and Kleinheinz Fellow Tyler Goodspeed spoke about their service to the president of the United States as chair of the White House Council of Economic Advisers (CEA).
The three explained that the staff members of the CEA, comprised mainly of academics, are principally tasked with developing and advancing good policies intended for stable growth in the American economy and stopping bad ones. However, on a number of occasions, they have applied their skill sets to address policy issues that would ordinarily seem outside their scope.
For example, Hassett described how during his service in the Trump White House, he formulated a plan whereby the US government would ration available ventilators nationwide and deliver them to New York, which was reeling from a high rate of infections and deaths during the early stages of the COVID-19 pandemic. He explained that to determine the country's supply of ventilators, he had to retrieve and analyze Medicare billing data from its transactions with hospitals. Aided by this information, he in turn requested that General Motors ramp up its manufacturing of this life-saving machinery to make up for shortfalls. Hassett said that within thirty days the government had ten thousand ventilators that it could deliver anywhere in the country.
Goodspeed shared a similar account about the CEA's efforts behind the scenes, utilizing data from the US Department of Health and Human Services to assess the capacity for testing COVID-19 infections. This effort helped determine the extent to which additional laboratory equipment and testing supplies needed to be produced.
Boskin described his career as the longest serving CEA chair. Typically, members of the CEA serve during two-year sabbaticals from their academic posts. At the request of President George H. W. Bush, Boskin served for almost four years. As CEA chair, Boskin had an eyewitness perspective on the extraordinary events that precipitated the collapse of the Soviet Union. He explained his leading role in advising both Soviet and Polish government and business leaders on their countries' economic reforms. Boskin said that through his service at the end of the Cold War he learned much about the process of economic policy making and its role in helping achieve America's strategic objectives.
Click here to read Michael Boskin's oral history, courtesy of the Miller Center, University of Virginia.
Click here to read "The Tax Cuts and Jobs Act—Four Years On," an essay co-authored by Kevin Hassett and Tyler Goodspeed at National Review.
Civil Discourse
Victor Davis Hanson, Martin and Illie Anderson Senior Fellow; and Niall Ferguson, Milbank Family Senior Fellow
Prominent historians and Hoover fellows Victor Davis Hanson and Niall Ferguson keynoted the retreat's final conversation during a Saturday dinner in which they covered the various economic, social, and cultural debates that have transformed life in America and the world in the twenty-first century. Topics spanned the impacts of the 9/11 attacks and wars in Afghanistan and Iraq that followed; the financial crises of 2007‒08; Brexit and other challenges of European cohesion; the Trump presidency; the COVID-19 pandemic; artificial intelligence; and how hyper-progressive ideologies have impacted the academic environment in American colleges and universities.
On Sunday, retreat attendees participated in the second annual Hoover Golf Classic.